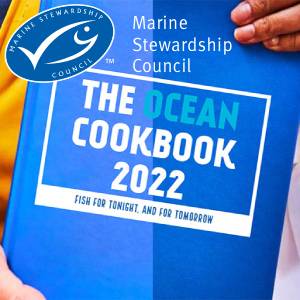 Future-friendly sustainable seafood recipes from around the world.
Take a Culinary World Tour with the New Marine Stewardship Council's Ocean Cookbook 2022

(UNITED KINGDOM, 1/13/2022)
New Year usually means fresh starts and healthy resolutions for a better future. The
Marine Stewardship Council (MSC) offers a simple way for you to take care of yourself, your family and our oceans.
At the start of 2022, many of us might be thinking about how our shopping habits are impacting the natural world. To inspire you, the MSC has teamed talented chefs with a fleet of dedicated fishers from all around the world, to contribute eighteen mouth-watering recipes, which show how you can support our oceans, by choosing sustainable seafood.
Try out something new in 2022.
The eighteen recipes in the Ocean Cookbook take the reader on a culinary world tour, starting with Australian king prawns in herb butter, to the European continent for North Sea haddock or mussels, out to east Asia for a sustainable fish noodle soup, a clam broth and a spicy tuna curry, down to South Africa for some hake fish cakes, back up to Poland for a winter warming halibut steak in mushroom sauce and Finland via Japan for tempura and tuna donburi. But no matter where it's from, each dish has been created by chefs with MSC labelled seafood - the world's leading choice in sustainable wild-caught seafood.
The cookbook highlights the work of fishers such as Justin Ryan who fishes in the Canadian Northeastern Atlantic for Canada Greenland halibut and Omar Papalia of the Maluku Indonesian Handline Yellowfin Tuna fishery who, like the other sixteen fishers featured in the Ocean Cookbook, are leading the way, meeting the rigorous requirements of the MSC Standard for sustainability, to deliver delicious, sustainably produced seafood to consumers around the world.
Sustainable seafood is not only nutritiously good for you, high in protein, minerals and nutrients but is caught in a way which ensures that there is enough fish left for future generations, that marine habitats are respected, and endangered threatened and protected species can recover.
Don your apron, prime your taste buds and dive into 18 sustainable seafood recipes for 2022!

That's why when you buy seafood carrying the MSC blue label, you can be sure that it has come from a certified, sustainable fishery. With over a third of the world's fish stocks overfished, and that trend continuing to rise, we can all make a real difference to the future of our oceans by supporting fishers who are committed to sustainability.
About the Marine Stewardship Council
The Marine Stewardship Council is an international non-profit organisation. The MSC recognises and rewards efforts to protect oceans and safeguard seafood supplies for the future.
Source: MSC

editorial@seafood.media
www.seafood.media
Information of the company:
Address:
Marine House, 1 Snow Hill
City:
London
State/ZIP:
England (EC1A 2DH)
Country:
United Kingdom
Phone:
+44 (0)20 7246 8900
Fax:
+44 (0)20 7246 8901
E-Mail:
info@msc.org
Skype:
https://www.instagram.com/mscecolabel/
More about: