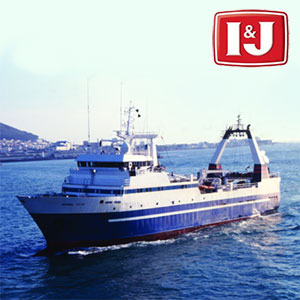 I&J deep-sea and inshore trawl fisheries for hake have been certified as sustainable and well managed by the MSC (Photo: I&J)
A Century of Fishing

(SOUTH AFRICA, 1/8/2013)
For more than 100 years, I&J has been a trusted name in seafood and has grown to become a prominent and successful company. Irvin and Johnson was founded in Cape Town in 1910 by George Irvin and Carl Johnson, who revolutionised fishing in South Africa.
I&J remains at the forefront of the South African fishing industry. From its base in the beautiful city of Cape Town – with the spectacular Table Mountain as its backdrop – I&J catches, processes and supplies wild caught Cape Hake and other seafood products to the world.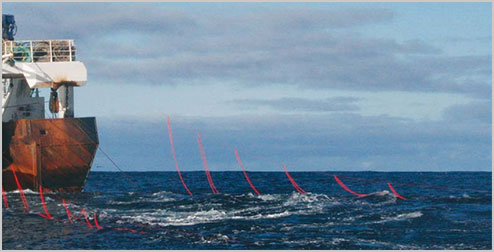 Tori lines are flown on all I&J trawlers to reduce interactions with seabirds
I&J is among a select few producers whose hake products are certified by the Marine Stewardship Council (MSC). All I&J export Hake products bear the recognisable blue logo of the MSC, a guarantee that they originate from a sustainable and well managed fishery.
I&J owns and operates one of the most technologically advanced fishing fleets in the Southern Hemisphere and fishes for Cape Hake (one of the world's premium hake species) in the icy waters of the South-East Atlantic Ocean.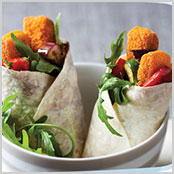 I&J Fish Fingers
Hake catches are processed and frozen at sea, or landed fresh, on ice, at I&J's sophisticated fish processing facilities in Cape Town. Here, I&J produces a wide range of value-added hake products for retail and food service markets in Africa, Australia, Europe, America, UK, Middle East, Indian Ocean Islands and the Far East.
Seafood exports are an essential part of I&J's business and the company is well positioned to create custom-made products that meet the needs and the highest expectations of its international customers. Some of the products produced for local and international markets include individually wrapped hake loins, steaks and fillets; marinated hake portions, battered or crumbed hake fillets and fish fingers. Also produced for export are fresh, prime quality (PQ) hake and a range of wild-caught species including Monk and Kingklip, Squid (Loligo Reynaudi) and Rock Lobster (Jasus lalandi).
Abalone are produced at I&J's expansive Danger Point Abalone Farm and shipped to appreciative markets in the Far East. I&J also has an innovative and convenient range of steam products.
An enduring emphasis on quality has resulted in I&J securing accreditation from the world's leading quality assurance organisations including BRC and IFS. The company's fishing vessels and processing facilities are HACCP compliant.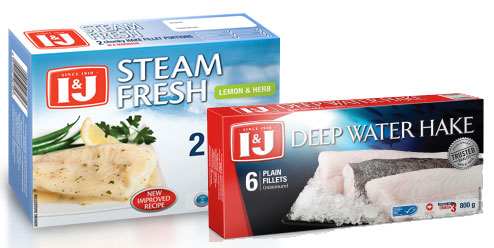 I&J is among a select few producers whose hake products are certified by the MSC
About I&J

I&J is a subsidiary of AVI Limited (Public, JNB:AVI), a listed South African company which is centred on the fast moving consumer goods (FMCG) and fashion markets. I&J is one of AVI's basket of more than 53 leading and best-loved South African brands.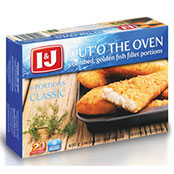 I&J Out'O The Oven fish fillet portions are made from 100% pure fish
There are 14 businesses in the AVI stable, spanning various categories including: beverages, biscuits and snacks; frozen, fresh and convenience foods; fashion and beauty; and "out of home". I&J forms part of the frozen, fresh and convenience foods category.

I&J is ranked as a level four contributor to Broad-Based Black Economic Empowerment (B-BBEE). Direct ownership by black-owned companies is 20 percent and a further five percent is held by I&J's previously disadvantaged employees through an empowerment share scheme.

I&J has set tangible goals for improving the company's B-BBEE rating; it aims to achieve a Level 3 rating by the end of 2014.

Source: I&J

Related News
Margaret E.L. Stacey
Editor Companies and Products
editorial@seafood.media
www.seafood.media
Information of the company:
Address:
I&J House, 1 Davidson Street, Woodstock
City:
Cape Town
State/ZIP:
Western Cape (7925)
Country:
South Africa
Phone:
+27 21 440 7800
E-Mail:
talk2us@ij.co.za
Skype:
https://www.instagram.com/iandjltd/
More about:
Approval / Accreditation / Certified / Oversight by...