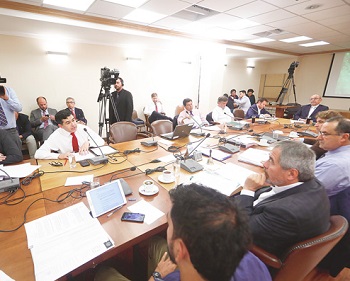 The Fisheries Committee of the Chamber of Deputies.
Fisheries Commission approves project declaring fisheries act nullity

CHILE
Friday, March 15, 2019, 23:10 (GMT + 9)
The Fisheries Committee of the Chamber of Deputies approved the bill that declares the nullity of the regulation known as the "Longueira Act" and that had a report in favour of the parliamentary motion.
Fisheries Commission approves "Longueira Act" nullity
Another step forward has been the project presented by a group of opposition deputies to declare the nullity of the law that modifies the General Fisheries and Aquaculture Act in the field of sustainability of hydrobiological resources, access to industrial and artisanal fishing activity and regulations for research and control.

The motion, which had a favourable report from the Constitution Committee, was approved by the Fisheries Committee for ten votes in favour and three against.

"All the political sectors are beginning to think that they have to rebuild their relationship with the world of artisanal fishing and of the fishery in general," said the commission's president, deputy Gabriel Ascencio.

For his part, deputy Francisco Undurraga said that, despite being "very much in disagreement with the way in which the act was created," he voted against the bill because he considers that "nullity is not the way, because it is unconstitutional."
Fisheries Committee of the Chamber of Deputies
The ruling legislator said he hopes that what is behind this is not going against the Constitutional Court, if it does not endorse the nullity of this act.

The decision of the Fisheries Commission was welcomed by the National Council for the Defense of the Fishing Heritage (CONDEPP), which described it as "a resounding blow to the fishing industry and a slamming of corruption".

"This new Congress, far from the political relationship and money, is a Congress we can trust in. We hope that this clear stance against the illegitimate Fisheries Act will be maintained in the Chamber Room," said Hernán Cortés, CONDEPP president.
Meanwhile, Nelson Estrada and Manuel Gutiérrez, managers of the same association, criticized the Undersecretary of Fisheries, who was present in the voting session, for insisting that "90 per cent of the act is good."

"The Government knows that this Act has been detrimental to the sustainability of fishery resources, it has delivered them to the fishing industry for 20 years and in perpetuity, it has been disastrous for artisanal fishing in terms of fractioning and, perhaps most importantly, it has allowed that the fishery resources are in the hands of private and not of all the Chileans", pointed out the two leaders.
The project must now be debated and voted in the Chamber Room, on the basis of the reports of the aforementioned commissions. If approved in this instance, it would pass to the Senate that would analyze it in committees and in the hemicycle.