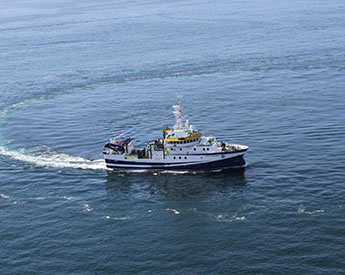 Aereal view of research vessel Ramon Margalef. (Photo: IEO)
Microplastics pollution assessed in waters and sediments of Galicia and Cantabria

SPAIN
Friday, April 21, 2017, 21:40 (GMT + 9)
Researchers from the Spanish Institute of Oceanography (IEO) began an oceanographic survey to assess microplastic contamination in both water and sediments off the coast of Galicia and Cantabria.
For eight days, scientists will study the spatial and temporal distribution of microplastics and their associated pollutants and evaluate the effectiveness of sampling different networks for the study of these emerging pollutants.
The study is carried out aboard the ship Ramon Margalef, which will cover part of the Atlantic and Cantabrian coastline sampling surface waters and sediments between 50 and 200 metres.
The survey is part of the European project BASEMAN (setting protocols and references for the analysis of microplastics in European waters), funded by the JPI-Oceans call and coordinated by the German research centre Alfred Wegener Institute Helmholtz Centre for Polar and Marine Research (AWI).
The main objective of BASEMAN is to set a standardized methodology for the identification and quantification of contamination by microplastics in the oceans.
This project, which involves 26 institutions from 14 countries, is divided into five work sets, one of which, the one on sampling, is led by Jesus Gago, a researcher at the IEO's Vigo Oceanographic Centre.