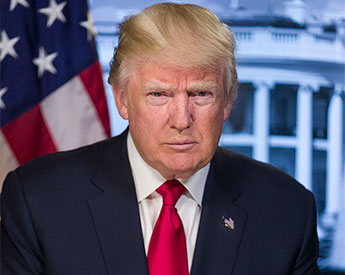 Donald Trump. (Photo: White House/CC BY 3.0)
Further seafood products to be affected by tariff war with China

UNITED STATES
Wednesday, July 11, 2018, 23:30 (GMT + 9)
President Donald Trump's administration has released a list of proposed tariffs on USD 200 billion worth of Chinese goods, affecting a wide range of sectors and including seafood products.
The new list products would be assessed at 10 per cent if Beijing insists on the retaliatory tariffs announced in June.
The list released this week includes shrimp and tilapia together with seafood products processed in China (some of which are caught in the US), such as Alaska pollock, sole and other flatfish, catfish, Atlantic and Pacific bluefin tuna, herring, mackerel, sardine, anchovy, cod, among others.
Last year, the United States imported fishing products from China for a total value of USD 2,700 million (tilapia represented USD 426 million and shrimp accounted for USD 335 million) while it exported seafood to the Chinese markets for USD 1,300 million, according to statistics from NOAA.
The latest round of tariffs are subject to a period of consultation that runs until the end of August, meaning the trade friction will continue well into the autumn campaign season for the U.S. midterm elections.
In response to what the US Government considers unfair commercial practices, the US started last Friday to implement tariffs of 25 per cent on Chinese imports with a value amounting to USD 34,000 million.
"China has since retaliated against the United States by imposing tariffs on USD 34 billion in U.S. exports to China, and threatening tariffs on another USD 16 billion. It did this without any international legal basis or justification," stated US Trade Representative (USTR) Robert Lighthizer.
In a statement, he also announced that the USTR will proceed with a transparent and comprehensive public notice and comment process prior to the imposition of final tariffs.
"For over a year, the Trump Administration has patiently urged China to stop its unfair practices, open its market, and engage in true market competition. We have been very clear and detailed regarding the specific changes China should undertake," highlighted Lighthizer.
The trade representative regretted that China has not changed its behavior, which, he considers, puts the future of the US economy at risk.
"Rather than address our legitimate concerns, China has begun to retaliate against U.S. products. There is no justification for such action," he stated.

Lighthizer said that the US is willing to engage in efforts that could lead to a resolution of their concerns about China's unfair trade practices and to China opening its market to US goods and services but clarified that in the meantime, they will remain vigilant in defending the ability of their workers and businesses to compete on a fair and reciprocal basis.
The proposed list and process for the public notice and comment period is set out in a Federal Register notice, which will be published within the next few days.
Related articles:
- Alaska seafood industry set to suffer from Chinese tariffs
- China just slammed massive tariffs on $34 billion worth of US goods — here's what will get hit
- China to spare US seafood imports for re-exporting from tariffs
- China's new tariffs worry North Pacific seafood exporters