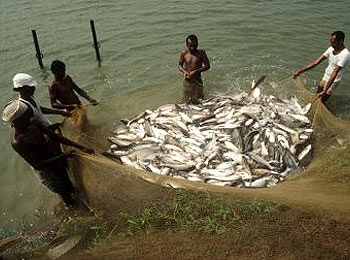 Kerala State could greatly increase the area used for aquaculture activities. (Photo: FAO)
Kerala inteds to offer further boost to aquaculture

INDIA
Thursday, July 12, 2018, 00:40 (GMT + 9)
The government of Kerala is working on a plan to double the output from inland fisheries by increasing the aquaculture area.
The decision was announced by Fisheries Minister J. Mercykutty Amma, who pointed out that to carry out the initiative a programme targeting a production of 80,000 tonnes, double the current output from the sector, is to be launched.
The minister stressed that the new fisheries policy to be announced soon would spell out measures to harness the immense potential of inland fisheries for the economic development of the State, The Hindu reported.
"Aquaculture is confined to less than 4,000 hectares in Kerala, while studies have shown that 68,000 hectares can be used for the purpose. The State currently export income amount to INR 54,000 million (USD 785.7 million), with production unable to match the demand for domestic consumption and export," she said.
Minister Mercykutty Amma explained that the initiative will include the adoption of modern methods like cage culture, recirculatory aquaculture, and zero water exchange shrimp farming, clarifying that the government would intensify the drive against seafood chemical contamination.
The next step of the campaign would focus on investigations to detect the presence of formalin in the ice used for preserving fish.
"Traders are reported to be using formalin-laced ice to maximise the quantum of fish in containers. Checks will be carried out to identify the source of contaminated ice and action taken against traders," the minister stated.
She said Kerala would take the initiative to create a consensus among south Indian States against destructive and unsustainable fishing methods and to this end, she highlighted that efforts are on to convene a meeting of ministers in August to discuss the issue.
The Government is also working to impose fines on those fishing vessels violating the ban on juvenile fishing.