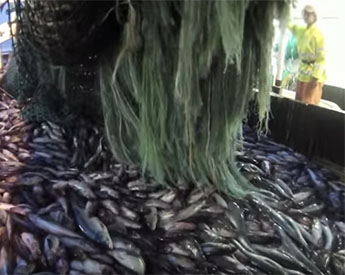 Fish landing in Alaska. (Photo: UniSea)
Ukrainian seafood purchasers to visit Alaska in search of commercial opportunities

UNITED STATES
Thursday, July 12, 2018, 03:50 (GMT + 9)
A delegation of Ukrainian seafood buyers are to visit fisheries on Unalaska Island, Alaska, as part of a programme held by Alaska Seafood Marketing Institute (ASMI) to rebuild trade relationhips.
ASMI recalls that in 2013, Ukraine spent USD 105 million on American seafood — a record for the Eastern European nation that loves hake, pollock and salmon roe, KUCB reported.
But two years later, those imports had plummeted almost 70 per cent as the Ukrainian government was overthrown and parts of its land occupied by Russia.
Today, the country's political conflicts are ongoing, but inflation and income have stabilized enough that foreign fish is back on the menu.
"The Ukrainian market is a growing market for U.S. seafood exports, and therefore it makes sense for Alaska to be part of that presence," Jeremy Woodrow of the ASMI said.
"It's definitely not as large as, say, Japan or China or maybe some other countries in Europe, but it is a growing market," he added.
The leader said the six Ukrainian delegates represent companies that are eager to connect with Alaska seafood suppliers, adding that they will tour processing plants and fishing boats in Unalaska before making stops in Juneau and Seattle.
"They'll be interested in seeing some of the larger fisheries like pollock, as well as some of the groundfish fisheries, like halibut and cod," Woodrow said.
The Ukrainian delegation will be in Unalaska July 22-25, then head to Juneau and Seattle at the very end of the month.


editorial@fis.com
www.fis.com