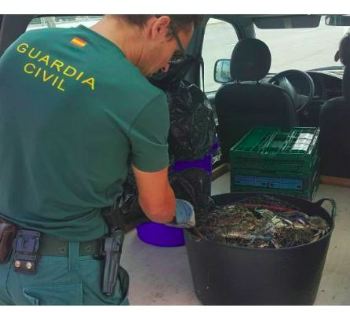 The captured specimens were given to a charity centre in Amposta. (Photo: Guardia Civil)
Chinese fishermen detected illegally catching blue crab

SPAIN
Saturday, September 15, 2018, 00:30 (GMT + 9)
Agents of Civil Guard of Deprona of the Delta de l'Ebre natural park and of the Territorial Tax Patrol of Sant Carles de la Ràpita carried out various operations to detect poachers engaged in blue crab illegal capture and marketing, driven by the claim made by professionals dedicated to fishing for this species.

During its development, illegal items of this product have been seized, reaching a total of one thousand specimens with a total weight of 170 kilos. Once their suitability for human consumption was verified, all the specimens intervened in the established operations were donated to a charity centre in the town of Amposta, Diari de Tarragona reported.

During the morning of July 28 in the area known as Canal de la Gaita, in the municipality of Amposta, civilian agents surprised a person of Chinese origin fishing for blue crab without the corresponding authorization.

On August 7, in the Alfacs bay, near a water channel that supplies the Encayissada lagoon, two people of Chinese origin were caught fishing with four lines, discovering a box containing several specimens of blue crab.

After being identified and requesting the corresponding authorization to carry out the activity, they stated that they did not have it, being denounced for violating Law 3/2011 on Maritime Fishing of the State.

To finish the operation, during the night of the Diada a high-end vehicle was intercepted, with two occupants of Chinese origin, in the town of Sant Carles de la Rápita after having acquired 302 blue crab specimens, which they intended to sell without passing the necessary sanitary controls, being denounced by the commission of numerous infractions to the Maritime Fishing Law.

The blue crab is native to the Atlantic coasts of the American continent, feeds on mollusks, crustaceans, small fish and plant material, its legs have a characteristic bluish colour, being a large species, whose adult specimens can reach 20 centimetres and weigh between 500 grams and 1 kilo. It is considered one of the 100 most harmful invasive species in the Mediterranean.

Since 2016, licenses for professional fishing have been granted, with a small number of them to date.

The Civil Guard warns that, although this crustacean is an invasive species, its uncontrolled capture outside the legal channels, prevents knowing the fate that is given to the product, causing a danger for the uncontrolled proliferation of this species, assuming a serious risk to both for the environment as well as for food health.