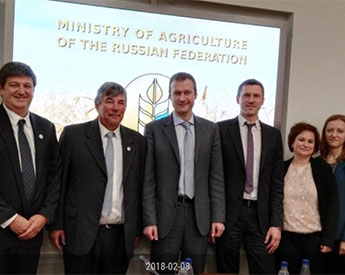 Argentine delegation in Moscow. (Photo: Agroindustry Ministry)
More seafood companies allowed to export to Russia

ARGENTINA
Saturday, February 10, 2018, 00:40 (GMT + 9)
Russia has authorized new seafood companies to export their products to the Russian market. The news was confirmed in Moscow, at the end of the XIII Intergovernmental Commission for Economic-Commercial and Scientific-Technological Cooperation (Comixta).

The undersecretary of Agricultural Markets of the Ministry of Agroindustry, Jesús Silveyra, and the director of International Relations of the Ministry of Agriculture of the Russian Federation, Maxim Markovich, led the meeting of the Working Group of the Agriculture and Fisheries Sector. Accompanied by the Vice President of the National Service of Health and Food Quality (SENASA), Guillermo Rossi, and Agroindustrial Aggregate in Russia, Alonso Ferrando, the desire of both parties to increase bilateral trade in agro-industrial products, focusing on different products, was reassured .

Among the advances, it was agreed to sign fisheries and aquaculture agreements on zoosanitary and phytosanitary matters as soon as possible, and 28 Argentine seafood companies were authorized to export to Russia.

In addition, in terms of cooperation, it was decided that the fisheries and aquaculture agreement between both countries be signed this year, once the Russian Chancellery validates the text that is already approved by the ministries of both countries.

Parallel to the meeting between officials and technical teams, a mission of Argentine companies was carried out in PRODEXPO, one of the most important fairs of the agri-food sector, which takes place between February 5 and 9.

Last year, this fair attracted 2,188 participants from 58 countries and 29 national flags, as well as a large number of professional visitors from other post-Soviet republics such as Belarus, Ukraine, Armenia and Kazakhstan.