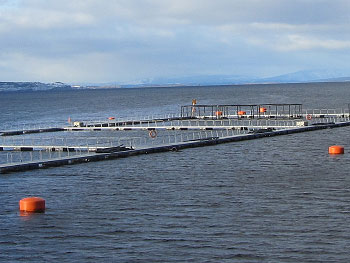 Fish farm. (Photo: SERNAPESCA)
Surveillance health program for HRD in farmed fish modified

CHILE
Saturday, February 10, 2018, 02:20 (GMT + 9)
This week Resolution No. 227 Exempt, of 2018, was published by the Ministry of Economy, Development and Tourism in the Official Gazette. The resolution modifies the Specific Health Program for Active Surveillance for High Risk Diseases (HRD) in Farmed Fish.

Within the modifications, it includes:
Definitions of suspect case and confirmed case, as well as the criteria for their classification.
All fish farming centers will be subject to two annual health visits in which the absence of HRD List 1 should be confirmed, according to the list indicated in the exempt resolution No. 1741/13 of the Undersecretariat of Fisheries and Aquaculture. The above based on the evaluation of the clinical signology and sampling to perform tests in diagnostic laboratories.
For the surveillance of viral diseases HRD List 1, the diagnostic laboratories should use as a diagnostic technique of choice, the RT-PCR in real time specific for each disease according to the current LABD-NT2. In the case of obtaining positive results, confirmation must be made by the Reference Laboratory as established by the exempt resolution No. 1448/11 of the National Fisheries and Aquaculture Service (SERNAPESCA). The implementation of this diagnostic technique will take effect from the sixth month after the publication of this Resolution in the Official Gazette, with the exception of the RT-PCR technique in real time for EHN, which will take effect from 1 year since its publication.
Replacement of encephalon by heart samples is replaced in fish over 6 cm and broodstock.
Regarding the transport of the samples, these should be kept under refrigeration conditions (4 - 10 ° C ± 0.5 ° C) and in suitable containers that have a temperature recording system in order to guarantee the maintenance of the chain of cold.

The sampling procedure should be carried out as described in Technical Standard number 1 (LABD-NT1), which establishes the procedures for the sampling of aquatic animals.