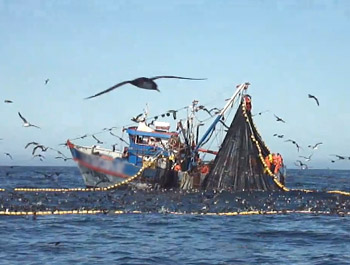 Anchovy fisheries. (Photo: Stock File)
First anchovy season in the north-central area closes

PERU
Friday, August 10, 2018, 01:40 (GMT + 9)
The Ministry of Production (PRODUCE) ordered that on August 10 the first fishing season of anchovy (Engraulis ringens) and longnose anchovy (Anchoa nasus) in the north-central area of ​​Peru be closed.

By Ministerial Resolution No. 329-2018-Produce, published this Thursday in the Official Gazette El Peruano, it was determined that the first anchovy capture season of 2018 be concluded in the area between the northern end of the maritime domain of Peru and the 16° 00'S.

According to a report from Instituto del Mar del ​​Peru (IMARPE) on the development of this fishing season, as of July 30, about 3.14 million tonnes (94.83 per cent of the established catch limit) of anchovy of this total, 81 per cent corresponded to landings of the industrial steel fleet and 19 per cent to the industrial wood fleet. The main landing port was Chimbote, with approximately 942,000 tonnes of anchovy.

The report also details that the size structure of the anchovy was mostly adult, with 17 per cent of juveniles in number and 9 per cent in weight.

"The reproductive indexes such as the Gonadosomatico Index (IGS) and the Anchovy Fraction of Spawning Females (FD) show an intensification of the maturing and spawning activity in the north-central region, according to the historical pattern", adds the report .

These indicators of the intensification of the reproductive process led IMARPE scientists to recommend the application of precautionary measures for the conservation of the breeding stock of the anchovy resource.

The regulation indicates that the anchovy landing of that caught this season, which began on April 12, must be carried out within 24 hours of the end of the season.

Meanwhile, the processing of said marine resource must be carried out within 48 hours after the end of the aforementioned season.

IMARPE will carry out monitoring and surveillance activities of the main biological, population and fishery indicators of the anchovy and longnose anchovy resource, and will inform and promptly recommend PRODUCE on the necessary fisheries management measures.