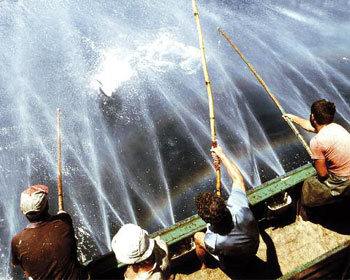 Albacore tuna fishery. (Photo: IEO)
Precautionary northern albacore fishery closure set

SPAIN
Friday, August 10, 2018, 22:10 (GMT + 9)
The fresh albacore tuna season will close earlier this year, almost two months earlier than usual, and will become the shortest in the history of this fishery.
Official landings data indicate that until the day before yesterday, 76 per cent of the 15,015 tonnes assigned to Spain had been consumed, which are distributed by Basque, Cantabrian, Asturian, Galician and Canarian fishermen.
The General Fisheries Secretariat notes that, in view of the current catches of northern albacore (Thunnus alalunga) in the waters of the Atlantic Ocean, north of the 5° N parallel, and taking into account the average daily consumption, in a few days it would reach 100 per cent of the consumption of the aforementioned stock.
Therefore, Fisheries and Aquaculture Management Director General Juan Ignacio Gandarias has decided the precautionary closure of the fishery from 00:00 (peninsular time) on August 18, for ships with Spanish flag that catch northern albacore tuna in the mentioned area.
Ships may only land the quantities captured and declared before the closing date indicated above.
The declaration of landing must be made within 48 hours for the ships using paper log, and within 24 hours for those with an electronic log obligation.
During the 2016 and 2017 seasons, the Spanish administration decreed the closure of the albacore season at the beginning of October. This year, however, the precautionary closure of the fishery occurs almost two months before and when only seven weeks have passed since the beginning of the fishing activity.

IEO - Instituto Español de Oceanografía (Oficina central)