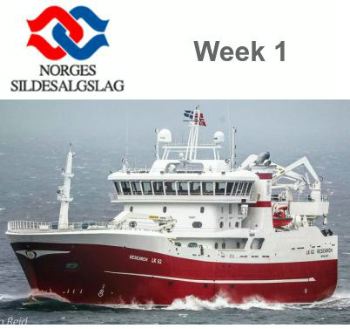 Photo: Ivan Reid/ Norges Sildesalgslag
The Norwegian Pelagic Fishing Course in Week 1

NORWAY
Monday, January 11, 2021, 19:00 (GMT + 9)
Good herring fishing in the north and lots of mackerel from foreign vessels

Mackerel



More than 30,600 tonnes of mackerel have been recorded in the first week of the year, most of which comes from foreign vessels that have been fishing west of Shetland. 23 vessels have been responsible for catches between 400 and 2,250 tonnes which have been delivered to many different receptions.

There have also been two catches of mackerel from the Austerfjord south of Sotra in western Norway. They have been a total of 14 tons.

Herring NVG


Great activity also in the NVG herring fishery this week with reported catches of almost 22,000 tonnes.

Of these, 6,100 tonnes were caught off Tromsøflaket by the larger fleet and around 10,200 tonnes were caught by the coastal fleet transporting the catch.

Around 5,500 tons have been extracted from the fleet that operates with closure and direct pumping from the network to the ferry. At the beginning of the week, there was an efficient fishery where the fleet filled the lead boat with 1,200 in half a day. During the week, we have had 7 guiding boats with a capacity of 380 to 1200 tons that have been loaded thanks to a good collaboration between buyers, guiding boats and fishermen. The last lead boat to be on the ship was Rødholmen, which had to give in until Saturday night when all indications were that herring was leaving the fjord and most of the fleet surrendered for the season.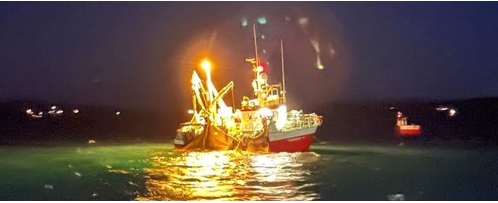 Photo: courtesy Ivan Reid/ Norges Sildesalgslag

There are still a few boats around Skjervøy that are hoping to start the catch over the weekend when the storm has subsided, so we are eagerly awaiting the outcome of this.

Coastal sprat and horse mackerel



Spjæringen has reported two catches of coastal sprat in the Oslo fjord totaling 47 tonnes and 9 vessels have caught a total of 260 tonnes of horse mackerel in the area between Boknafjorden and Bjørnafjorden in western Norway.
Autor: Roar Bjånesøy / Norges Sildesalgslag (translated from original in norwegian)