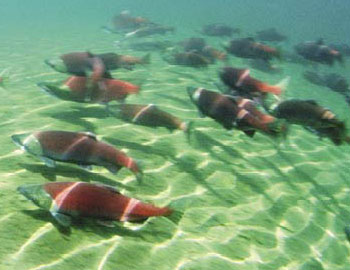 Sockeye salmon. (Photo: NOAA/USFWS)
Bristol Bay received largest sockeye salmon run on record since 1893

UNITED STATES
Thursday, October 11, 2018, 01:40 (GMT + 9)
A total of 62.3 million sockeye salmon returned to Bristol Bay in the summer of 2018, which is 21 per cent above the preseason forecast of 51.3 million fish. This figure exceeds by 69 per cent the last 20 year average, and it is the highest one on the records carried out since 1893, according to the Alaska Department of Fish and Game (ADF&G).
The total sockeye salmon catch in the five districts in Alaska was 41.3 million fish, the second largest harvest in the history of the fishery, behind that of 1995, when 44.2 million were captured.
In the Nushagak District, in particular, 24.1 million sockeye was caught. This harvest has been the largest one ever recorded in only one district and accounted for more than half the reds harvested in the bay this summer.
The Togiak District also set a record for sockeye return to its district: 1.37 million, which is 59 per cent more than the foreseen number. Tim Sands, ADF&G area management biologist for the Togiak and Nushagak districts noted that the length of the run rather than a concentrated peak drove up those numbers.
The exvessel value also broke a record in the Bristol Bay: ADF&G preliminary figures indicate that USD 281 million was paid for all salmon species, almost two and a half times the 20 year average. This value exceeds in over 39 per cent the previous record value, which was USD 202 million, recorded in 1990.
Sockeye brought an average USD 1.26 per pound base price and the total harvest value reached USD 275.5 million.
According to ADF&G, "Fish that had three years of saltwater residence were closer to long term average weights (5.5 to 6 lb) while fish with two years of saltwater residence were smaller than the long term average weights (3.5 to 4.5 lb)."
Sands pointed out that the majority of the huge Nushagak run is made up sockeye that lived in the ocean for two years, which brought the bay wide average sockeye size down.
In terms of other salmon species, Bristol Bay fishermen harvested 41,000 chinook, which us a little below the average of 48,161 fish in the period 1998-2017; and 1.9 million chum, which far exceeds the 20-year average of 983,118 fish.
In the case of pinks, 220,000 were caught, 55 per cent below the average number recorded in the period 1998-2017.
A total of 140,000 silvers or coho were captured, which is below last year's harvest -- 240,000 salmon -- but over the 20-year average.
Taken as a whole, 2018 has been an exceptional year for Bristol Bay salmon fishing season.