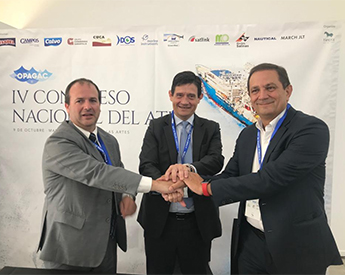 Collaboration agreement settlement between AZTI and Marine Instruments. (Photo: AZTI)
AZTI and Marine Instruments strengthen collaboration to improve fishing sector efficiency

SPAIN
Thursday, October 11, 2018, 01:10 (GMT + 9)
Technological centre AZTI and company Marine Instruments have signed a framework agreement for collaboration in the field of research, development and scientific-technical innovation in order to develop solutions that improve the fishing activity efficiency and sustainability.
Marine Instruments is a technology company based in Nigrán, Pontevedra, dedicated to the design and manufacture of electronic equipment mainly for the fishing sector.
AZTI is a research centre based in the Basque Country specialized in the food value chain that has a history of more than 30 years, endorsed by a team of more than 250 experts.
Marine Instruments and AZTI have collaborated closely for several years in various lines of research of common interest, such as the acoustic differentiation of species and sizes in tuna having commercial interest or the development of on-board electronic monitoring tools that allow greater sustainability and transparency of fishing activities.
To these two lines a third one will be added, the commercialization by Marine Instruments of an integral service that will combine, through intuitive and easy to use visualization software, all the oceanographic information that affects the behaviour of the fish (eg currents, temperature, chlorophyll) with a predictive analysis of those fishing areas that have the highest probability of success. This service will be supported by the extensive know-how of AZTI in this area to put technology at the service of more efficient and selective fishing.
"We have been working with AZTI for several years on different projects with very positive results, but the settlement of this agreement is a great step forward for us, since it will allow us to establish a closer relationship and work on a common strategy to further adapt our solutions to the specific needs of the sector," said Gabriel Gómez, CEO of Marine Instruments.

"The use of big data and artificial intelligence to digest the increasing amounts of information available or the use of blockchain to achieve greater transparency and traceability in food supply chains are some of the challenges we face as a sector. The signing of this agreement will allow the implementation of new lines of joint work that can respond to many of these challenges," said Iñaki Arbulu, CEO of the Arbulu group.
"Our research, the innovation we generate and our investment in technology are aimed at providing greater competitiveness to the marine and fishing sector, without forgetting that the challenge is to achieve a sustainable development of our environment, always from an integrated perspective," said Rogelio Pozo, general director of AZTI.