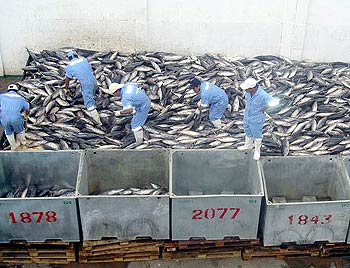 Tuna landing. (Photo: PRODUCE)
Ministry of Production will review decree on tuna landings

PERU
Friday, January 12, 2018, 23:40 (GMT + 9)
The Ministry of Production (PRODUCE) will review the supreme decree that regulates the landings of tuna of the foreign fleet, in order to establish more adequate deadlines to ensure the continuity of the activities of the national industry dedicated to the processing of this resource.
The decision was adopted as a result of the concerns expressed by the national industry regarding Supreme Decree No. 021-2017-PRODUCE, and after meetings held between the Ministry and industry representatives.
Through this decree, the Ministry sought to guarantee the continuity of access for the extraction of tuna in order to ensure the supply of tuna to Peruvian industry establishments, and "strengthen the legal and economic stability framework that encourages the participation of private investment in the tuna resource industry ".
The National Society of Industry (SNI) warned that up to 5,000 jobs could be jeopardized in the Peruvian tuna industry as a result of this decree, because it does not oblige foreign fishing shipowners to leave 30 percent of their extractions in Peru territories in the next four years.
"The measure generates a very serious damage to the industrial sector and about five thousand people whose jobs would be at serious risk," said the president of the SNI, Alfonso Miranda.