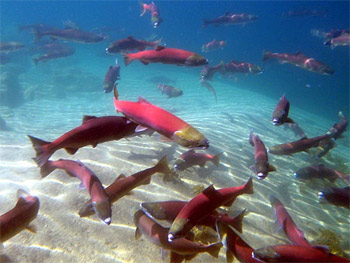 Sockeye salmon. (Photo: USGS/NOAA)
Three pesticides put north-west coast salmon survival at risk

UNITED STATES
Friday, January 12, 2018, 23:50 (GMT + 9)
A document from the National Marine Fisheries Service (NMFS) states that three organophosphorus pesticides widely used in the United States endanger the survival and recovery of endangered salmon and killer whales.
The biological opinion of the NMFS, released this week by the organization Earthjustice, is part of a deadline established by the Justice for the federal agency to determine the threat posed to salmon by agricultural pesticides chlorpyrifos, malathion and diazinon.
By determining that these organophosphorus products threaten the survival of salmon, the biological opinion offers three options of protective measures to avoid that result, which include the creation of buffer zones, technologies to reduce spraying and programs of protection and administration of pesticides.
In reference to this report, Patti Goldman, an attorney at Earthjustice, stressed that science has shown that these pesticides are highly dangerous for both species and people.
The NGO recalls that the Environmental Protection Agency (EPA) refused to ban chlorpyrifos in 2017, "despite the overwhelming evidence that shows that the pesticide harms children, workers and the environment." This pesticide, considered one of the most toxic, is used in citrus fruits, nuts and fruit trees, and causes, among other things, problems of neurological development in children.
As for malathion, which is widely used in the USA on alfalfa, cotton, rice, wheat and other food crops, it has been shown to cause anomalies in the growth of fish that are exposed to the pesticide.
Diazinon is used on rice, fruit trees, sugar cane, corn, potatoes and horticultural plants.
Research on the use and consequences of these pesticides was to be delivered by NMFS before December 31, 2017. Dow AgroSciences wanted the agencies to stop investigating last April, while the Trump Administration requested the courts to grant The federal agencies involved an extension of two years, keeping 2017 as the deadline.
Glen Spain, Northwest Regional Director of the Federation of Fishermen's Associations of the Pacific Coast, stressed the importance of agencies continuing their work to relieve salmon from these toxic pesticides.
According to Earthjustice, the inaction of the federal government could result in high economic risk and the loss of thousands of jobs. The NGO notes that independent economic studies showed that in the late 1980s, salmon and rainbow trout fishing in Oregon, Washington, Idaho and northern California produced more than USD 1.25 billion for the regional economy and supported more of 62,000 famiy wage jobs.

NOAA/NMFSborrar