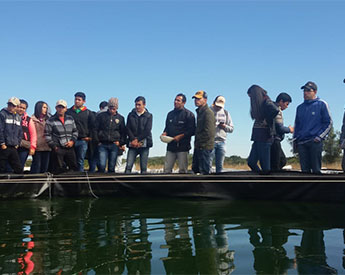 Surubi farming. (Photo: Ministerio de Agricultura y Ganadería)
Surubí fingerling production to be developed with Taiwan's aid

PARAGUAY
Tuesday, June 12, 2018, 01:10 (GMT + 9)
Paraguay will promote surubí farming, as it has already performed with tilapia and pacú, with the purpose of diversifying production and improving the life quality of small producers in an integral way in the country.
This is an initiative of the Ministry of Agriculture and Livestock, through the Vice Ministry of Livestock, which will be implemented with the cooperation of the Republic of China-Taiwan.
The surubí (Pseudoplatystoma) is a native species of Paraguay, but its production has been declining due to overfishing: in the year 2000, fish capture in the river was almost 30,000 tonnes in total, half of the current catch production.
The executive coordinator of Sustainable Aquaculture Program in Paraguay, Susana Barua, explained that to promote the development of surubí farming, they requested technical assistance to Taiwan, and after a final evaluation at the national level, the development of the project was approved, reported IP.

Some the main objectives of this initiative are the transfer of technology, training specialists in surubi production and reproduction; and the availability of quality fingerlings by preventing the illegal entry of fingerlings from other countries.

The project will establish the reproduction technology of fingerlings, which will not only decrease the number of fingerlings that are imported, but also reduce the risk of attacks by foreign diseases and parasites.

During the field trip with the experts from Taiwan, the binational entities of Itaipú and Yacyretá were visited as well as farms of producers who are fattening the surubí, with a good predisposition to support the project.

Given the excess of fishing surubí, its production has been decreasing during these last years. In addition, Paraguay does not have technology to manage the reproduction of surubi juveniles, therefore, the acquisition of fingerlings focuses on import or smuggling.

Also, within the closure period in the Paraguay River, the farmed product will replace fishing to supply demands of the surubí market, which will not only increase the income of the farmers, but will also help stabilize the price and the domestic consumption market .

As Paraguay has no outlet to the sea, in order to meet the domestic demand for fish, the MAG has been promoting freshwater fish farming since 2010, with the support of the Taiwanese mission and the construction of the largest National Fingerlings Production Centre located in the district of Eusebio Ayala

There are already some surubí producers in the country, but they still depend on the import of fingerlings from Brazil.

The investment in this initiative is for a total of USD 2 million. The Government of the Republic of China-Taiwan will contribute USD 1.5 million and the Government of Paraguay will take care of the remaining USD 500,000.

Related article:
- National program created to boost sustainable aquaculture