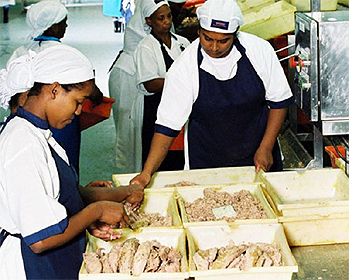 Seafood processing plant in Mauritius. (Photo: Mauritius Freeport Authority)
Deal with South Africa to strengthen cooperation

MAURITIUS
Wednesday, June 13, 2018, 00:00 (GMT + 9)
Mauritius and South African governments are to sign a memorandum of understanding intended to develop cooperative activities in the fields of fisheries, fishing, seafood processing, trade of fish and fish products.
This MoU will be signed by the Ministry of Ocean Economy, Marine Resources, Fisheries and Shipping and the Department of Agriculture, Forestry and Fisheries of the Republic of South Africa.
As part of the deal, the promotion of aquaculture development and the exchange of related expertise and technology will be carried out.
Authorities of both countries stressed that the objective of the deal will also be achieved by conducting joint research on marine living resources and collaborating in the enforcement of measures aimed at reducing illegal, unreported and unregulated (IUU) fishing activities.

The MoU also provides for the setting up of a Joint Committee that would be responsible for the development of biennial programmes of cooperation and the deal implementation.

MAURITIUS FREEPORT AUTHORITY