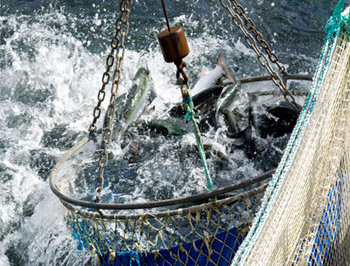 Farmed salmon harvest. (Photo: Lionel Flageul/EC)
EP calls for improving aquaculture sustainability and competitiveness

EUROPEAN UNION
Wednesday, June 13, 2018, 21:30 (GMT + 9)
The European Parliament (EP) on Tuesday approved a proposal to improve the sustainability and competitiveness of aquaculture in order to offer more information to the consumer and promote production in this sector in a context of reduction of marine populations.
The initiative, approved by 605 votes in favor, 38 votes against and 30 abstentions, calls for greater traceability of farmed products in a market in which consumers can not always identify the origin of these species.
Spain is the largest aquaculture producer in the EU, with more than 289,000 tonnes per year, and the fourth one in production value (after the United Kingdom, France and Greece), according to data from the United Nations Food and Agriculture Organization (FAO).
Aquaculture accounts for 20 per cent of EU production and directly employs some 85,000 people. The Commission's forecasts for the production of fish and shellfish bred in the EU for 2020 point to an increase of 25 per cent, which would amount to 1.5 million tonnes per year.
The rapporteur of the report, Spanish MEP Carlos Iturgaiz (PPE), said in his speech at the plenary of the European Parliament that the European Union, despite everything, "does not just exploit the potential" of the aquaculture sector.
Some of the causes of this situation are "lack of maritime space, administrative obstacles when granting licenses or lack of consumer information on the way in which it occurs in third countries (workers' social conditions, footprint environmental or welfare of the fish)," said Iturgaiz.
The MEP insisted on the need to "simplify administrative procedures" and advocated that imported aquaculture products be subject to the same standards as those produced in the EU.
The European Parliament has given the green light to the increase in aquaculture production in the EU and to apply the same requirements to imported products as to European ones. The European Parliament claims that "imported aquaculture products must be subject to the same environmental, food safety, social-labour and human rights standards as those produced in the EU in order to guarantee fair conditions of competitiveness".
MEPs also demand "a specific label to recognize products from sustainable aquaculture in the EU, to provide greater transparency to consumers by strengthening traceability."