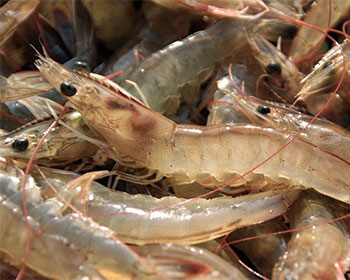 Farmed shrimp. (Photo: Stock File)
Shrimp price recovery forecast in Q3

UNITED STATES
Friday, July 13, 2018, 02:50 (GMT + 9)
The Vietnam Association of Seafood Exporters and Producers (VASEP) expects shrimp price to recover in August and September this year after having dropped over the past months, especially in the second quarter.

The VASEP explains that shrimp crops in major suppliers like India, Bangladesh and Thailand have finished, causing a decline in supply sources, while many Vietnamese firms have received big orders for year-end events.

Experts advised that farmers should not hastily sell their immature shrimp, but farm big shrimp for better profit as the resource price.

At the same time, shrimp farmers should use new technology, while focusing on fostering cooperation towards value chains to improve product quality and reduce costs.

VASEP informed that Vietnam's shrimp exports started falling in April this year when revenue reached only USD 257.2 million, representing a fall of 0.4 per cent over the same period last year.
The sector experienced sharper year-on-year drop of 5.7 per cent in May and even 15 per cent in June.

The increase in global shrimp supply sources and the decrease in prices led to a slump in domestic shrimp prices starting in April. Notably, the price of white-leg shrimp has fallen 20-30 per cent and is yet to see signs of recovery.

Many international organisations predicted that shrimp output of major world suppliers will recover, with total production exceeding 3.5 million tonnes in 2018, the highest point in 10 years.

This year, many big shrimp suppliers have also given support policies to boost the sector's growth, resulting in higher production, while demand has decreased.

Tran Van Linh, General Director of seafood company Thuan Phuoc said that the impacts of the increase in USD price compared to other currencies such as Euro, Japanese yen and Korean won has also been a challenge for shrimp exports.

Linh expressed fears that if shrimp prices do not increase in the rest of the year, exporters will experience a lack of material sources as farmers reduce their shrimp farms.

Despite the downturn in shrimp exports in the second quarter, revenue in the first six months of this year still expanded about 7.6 per cent to USD 1.6 billion thanks to growth of more than 20 per cent in the first quarter. Particularly, exports of white-leg shrimp grew 18 per cent with USD 1 billion in value.

editorial@fis.com
www.fis.com