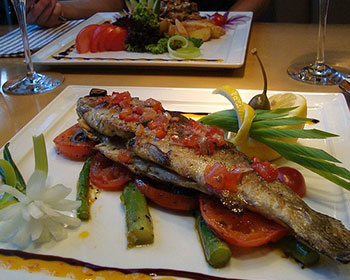 Fish dish. (Photo: Anders Rune Jensen/CC BY-SA 2.0)
Well-cooked fresh fish not running risk of producing anisakiasis

SPAIN
Friday, July 13, 2018, 02:50 (GMT + 9)
Following the recent appearance of several cases of anisakis infestation in humans after the intake of frozen fish, the associations of the Spanish fishing sector, CEPESCA, tries to calm Spanish consumers.

CEPESCA recalls that it is possible to eat freshly cooked fish without any concern of suffering from anisakiosis, given that, as the Spanish Agency for Consumer Affairs, Food Safety and Nutrition (AECOSAN) states, "Anisakis disease can only be contracted if you eat raw fish."

For these cases of consumption of fish that is raw or nearly rawin crude, it is recommended to freeze it for five days, a measure AECOSAN has supported for years and that the fishing sector also adheres.

Anisakis is a parasite that can be found in fish and cephalopods and cause digestive disorders (anisakiasis) and allergic reactions that can sometimes be serious.

The sector reminds Spanish consumers that in order to be totally calm and easily avoid any risk, it is only necessary to fulfill three requirements:
Buy the fish clean and without guts;
Cooking the fish in the traditional way (cooking, frying, baking, ironing), since with these preparations the temperature of 60 °C is reached throughout the piece, which inactivates the parasite completely, if there is one.
If the fish is to be eaten raw or semi-raw, freeze it at a temperature of -20 °C during the five days mentioned above.
CEPESCA points out that the Spanish fishing sector, like that of the rest of the European Union, is aware of the existence of anisakis and has spent several years investing and undertaking various initiatives to alleviate its proliferation. In fact, different associations have undertaken training plans for their crews and have incorporated new technology on board to tackle this problem.

In this regard, the association requests, both Spanish and European authorities, to encourage aid for this type of project in order to eradicate this problem for consumers.

It also emphasizes, referring to AECOSAN, that oysters, mussels, clams, and other bivalve mollusks, as well as semi-preserved ones such as anchovies (in metal, glass or other presentations), and dried salted fish such as cod or mojamas, can not cause this disease, although they are consumed raw and without freezing previously.

With these initiatives and advice, the fishing sector wants to reassure Spanish society and stop the alarm that certain information may pose regarding the presence of anisakis in some fisheries species and their potential effects on consumers.

editorial@fis.com
www.fis.com