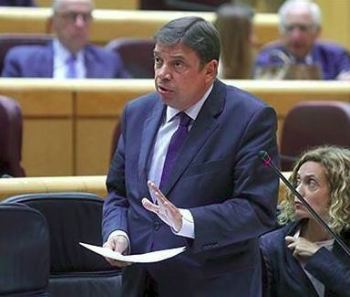 Minister of Agriculture, Fisheries and Food Luis Planas at the Senate.
Spain encourages sustainable fishing and observation of community legislation

SPAIN
Friday, September 14, 2018, 00:40 (GMT + 9)
Minister of Agriculture, Fisheries and Food Luis Planas said in the Senate that Spain maintains surveillance to ensure that the activity of the pelagic fleets of other Member States respect Community legislation, preventing damage to the Spanish fleet.

In this context, the official agreed that the country has since 1988 bet on the capture of northern albacore through traditional pole line systems, having been prohibited the pelagic and semi-pelagic trawling activity.

However, this pelagic trawling technique is a fishing gear authorized by Community legislation, so fleets from other Member States can fish with this gear within Community waters.

In this context, the minister said that there is no scientific evidence to demonstrate the impact of pelagic trawling on the northern albacore population and on the ecosystem and, if any, the necessary actions or measures would be considered before the European Commission.

From Spain, Planas said, control and surveillance activities are being reinforced, with maritime, air and port means to avoid any contravention of European standards.

In order to find a model of coexistence between the Spanish fleets and those of other Member States that worked in community waters, the minister pointed out that a meeting was held with the French Fisheries Administration.

On the other hand, he highlighted the good results achieved in the 2018 season, which has had a total quota of 15,015 tonnes of northern albacore and in which more than 300 vessels have participated, most of them artisanal, highlighting that they detected problems.

The minister concluded that the main objective of the Government is to promote sustainable fishing that guarantees the correct exploitation and conservation of resources, an aspect that is particularly important in relation to the coastal area of ​​the northern albacore.