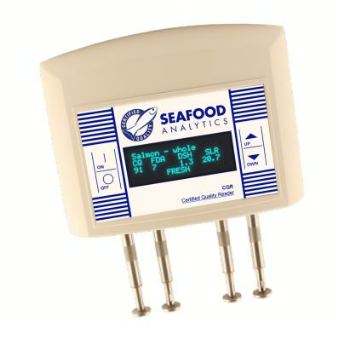 Instantly see scientifically proven quality data for your seafood
Handheld CQR aims to crack fish-health code

UNITED STATES
Wednesday, January 15, 2020, 00:00 (GMT + 9)
Seafood Analytics' device employs FDA-cleared for human use electrode technology
Those engaged in aquaculture face a problem – fish don't talk. Neither do shrimp or any of the other aquatic species for that matter. Their silence makes determining their health status a difficult task.
"Right now, we don't know that they're sick until they die. But a lot of times they're sick and they're eating less and they're growing less and we don't really know it," said Chuck Anderson, vice president of Seafood Analytics.
The company, based in Detroit, Mich., hopes to help producers become more proactive with a handheld device that's suitable for assessing fish, shrimp or other aquaculture species. Called a Certified Quality Reader, or CQR, the device has electrodes that when pressed against the specimen send an electrical signal through the animal. The readout of that signal provides valuable information that, in effect, makes the fish answer health-related questions.
"You simply touch the side of the fish and in less than a second you get a measurement. Those measurements can be body composition or a health index," said Keith Cox, Seafood Analytics co-founder.
Behind that simple description lie years of work, which began when Cox conducted research in college. The response to an electrical signal has been used for decades as a tool to determine body composition and health of humans. Indeed, the CQR is a U.S. Food and Drug Administration-certified class II medical device for human use that has been repurposed for use on aquatic animals, Anderson said.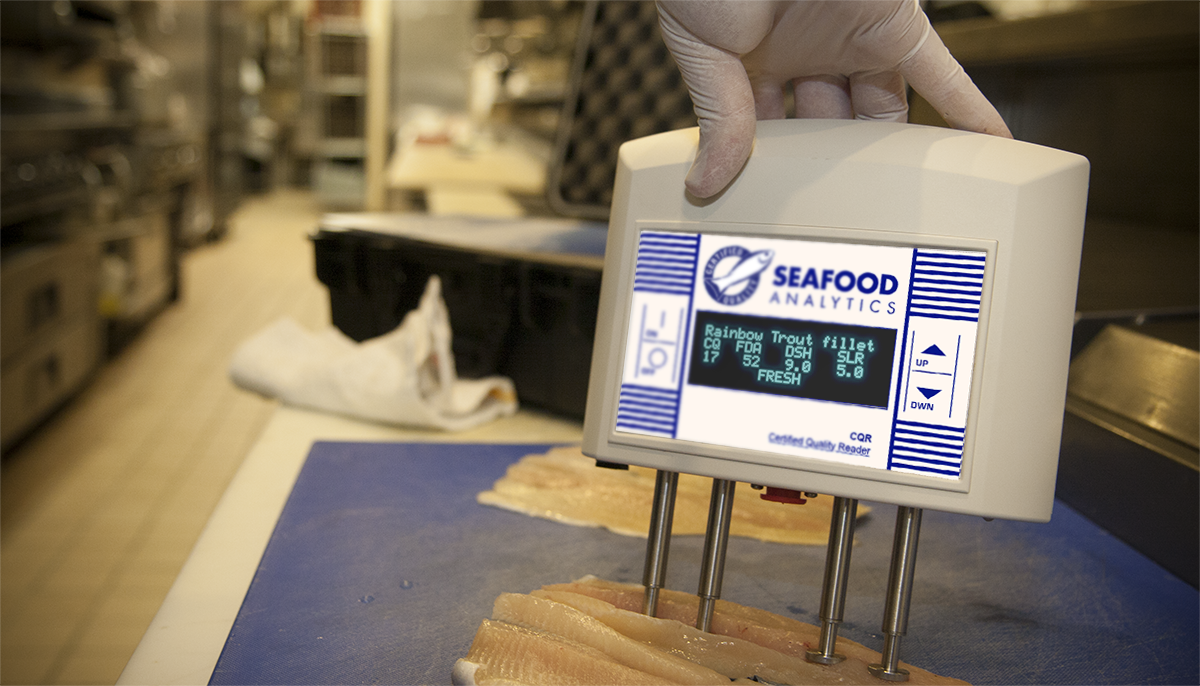 When passed through a fish, shrimp or any other living organism, an electrical signal changes based upon the fat or other attributes of the animal. Those changes can be related back to standard wet chemistry lab tests, providing a correlation between what is detected electrically to such body composition components as percentage fat, water or protein.
There's good agreement between the electrical and chemical tests, with the first having accuracy levels of 96.7 to 98 percent when compared to the second group, according to Seafood Analytics. The validation of the electrical approach was carried out in conjunction with Oregon State University, and results of the electrical signal method have appeared in scientific papers.
Seafood Analytics - Animation Explainer Video from Marant Media on Vimeo.
The traditional gold standard approaches to measuring body composition suffer from such drawbacks as being slow and requiring specialized chemicals, facilities and expertise. The method touted by Seafood Analytics, in contrast, is fast and doesn't need anything more than the device itself and the animal being measured, according to Cox.
Source: Hank Hogan/aquaculturealliance.org | Read full article here