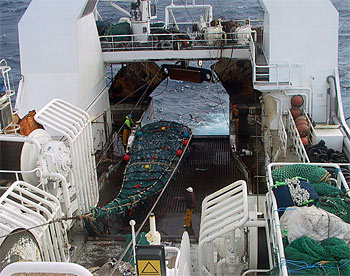 Hoki fishery. (Photo: Stock File)
Over 70pct of New Zealand's deep water seafood has MSC certification

NEW ZEALAND
Wednesday, May 16, 2018, 02:30 (GMT + 9)
With over 70 per cent of New Zealand's deep water catch Marine Stewardship Council (MSC) certified as sustainable, New Zealand's Deepwater Group (DWG) welcomed on Monday the Sustainable Seafood Day, which marked the 20th anniversary of MSC's establishment.
The event was opened by Fisheries Minister Stuart Nash, who highlighted MSC validation of New Zealand's reputation for its sustainable and well-managed fisheries.
"MSC's vision of the world's oceans teeming with life, and seafood supplies safeguarded for this and future generations is relevant to and aligns with expectations of New Zealanders and is what we aim to deliver as Fisheries New Zealand," pointed out the minister.
New Zealand's hoki fishery was the first whitefish one in the world to be MSC certified as sustainable in 2001. Since then, the reserves of this fishery have more than doubled in size and the fishery now supplies domestic markets as well as those in the United Kingdom, Europe, the US and Australia.
Also attendees to the Sustainable Seafood Day, panellists Dr Matt Dunn Principal Scientist at NIWA, Volker Kuntzsch CEO of Sanford and Anne Gabriel Oceania Program Director at MSC offered insights on what sustainable seafood meant to them and how MSC contributes to this.
"Over half of New Zealand's wild caught seafood is certified to the MSC Standard for Sustainable Fishing and 74 per cent of deep water fisheries are certified, which shows leadership and commitment to safeguarding the oceans for future generations," said Anne Gabriel, MSC Oceania Program Director.
New Zealand has 18 fisheries comprised of eight species, which annually harvest around 230,000 tonnes, certified to MSC's standard.
The certified species are: hoki, hake, ling, southern blue whiting, albacore tuna, orange roughy, skipjack tuna, and Ross Sea toothfish.
"The Government and quota owners have demonstrated international leadership and commitment to ensure the performance of our deep water fisheries meet the world's highest standards for sustainability," stressed George Clement, CEO Deepwater Group.
"MSC facilitates a conversation among the different stakeholders, providing transparency and disclosure" said Gabriel.
Dr Dunn described how MSC is solidly underpinned by science, separating facts from opinions.
MSC Certification is for a five-year period, during which annual audits confirm that the fishery's performance remains fully compliant with MSC standards. After five years each fishery undergoes a new full reassessment in order to remain certified.

editorial@fis.com
www.fis.com