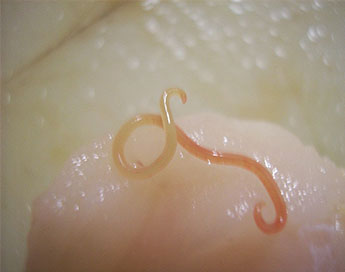 Anisakis in fish. (Photo: Comer sin Miedo)
New technology helps combat anisakis in fishing boats

SPAIN
Wednesday, May 17, 2017, 02:50 (GMT + 9)
The installation of devices that inactivate anisaki larvae on fishing vessels is one of the technological tools that the Ministry of Agriculture and Fisheries, Food and the Environment wants to encourage to combat this parasite in fish.
This plan is known in the midst of the media controversy following a study in a British scientific journal that warns about the increase in cases of parasitic infections associated with the consumption of raw fish, linked in turn with the increasingly popular sushi consumption.
The implementation of this technology is part of the actions that public administrations and the sector are pushing against this food risk, according to a document that Efeagro has had access to.
The text summarizes the plans presented by the General Secretariat of Fisheries of the Ministry to reinforce the fight against the parasite, which were analyzed in a recent meeting with organizations of shipowners, traditional retailers and distribution companies.
The Administration has insisted on the need to transmit "tranquility and security" messages on one of the most media-related food risks, as there is now the means to control it.
Anisakis is a worm that can be in fish and whose larvae pass into the human digestive tract if the food is eaten raw or undercooked.
Current standards force establishments that serve or sell food to ensure that fish eaten raw have been frozen at or below -20 °C for at least 24 hours.
According to the Ministry, there is a work plan with short, medium and long-term actions to further mitigate the incidence of anisakis in fish and in the ecosystem, including the installation of devices on vessels to inactivate larvae, which is among the most outstanding ones.
One of the current projects in this area that is highlighted is "Parasite", of the European Commission (EC) and led by the Marine Research Institute of Vigo, on the impact of proper management of viscera on board ships, Efeagro reported.
Technological projects are also being developed such as "Scanisakis", a high resolution scanner so that establishments can determine the degree of infection of the fish samples.
In the short term, the Administration also envisages the development of a UNE standard for on-board viscera management practices.
On the other hand, the Government and sector are encouraging and sensitizing the professionals of the whole food chain on the risks of raw or insufficiently cooked fish.