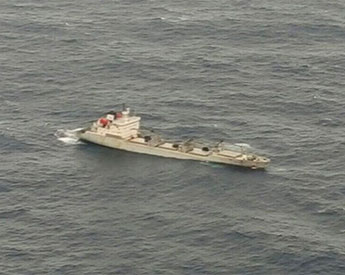 The Uruguay Reefer. (Photo: Marina Argentina)
Squid and krill loaded vessel sinks in Falkland Islands waters

FALKLAND ISLANDS
Wednesday, May 17, 2017, 23:10 (GMT + 9)
The freighter Uruguay Reefer sank last Monday after having been ten days adrift near the Falkland Islands.
The ship, which according to various sources was loaded with squid and krill, experienced severe damage to the hull when operating near the South Shetland Islands, about 75 miles north of Antarctica.
The 150-meter Panamanian-flagged freighter had been declared in emergency last Friday due to the flooding of its holds and on Sunday, when the situation could not be solved, it was decided to rescue the 42 crew members and abandon it.
According to MercoPress, the freighter was accompanied by two other ships of the same shipowners, MV Taganrogskiy Zaliv and MV Frío Las Palmas, who intervened in the rescue and monitoring of the situation.
The Uruguay Reefer had been towed last week out of the Islands' conservation areas by the ship Frío Las Palmas, and finally sank Monday 350 miles northeast of Stanley.