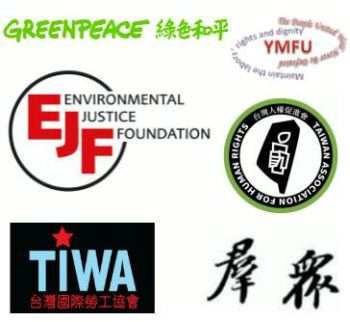 The joint statement comes days before World Fisheries Day
34 NGOs and Trade Unions Worldwide Demand Taiwan Eliminate Forced Labor in DWF Industry

TAIWAN
Friday, November 20, 2020, 03:50 (GMT + 9)
Taipei – Greenpeace is among 34 NGOs and trade unions from around the world, including Indonesia, Australia, South Korea and the U.S., demanding that Taiwan address issues of forced labor. The joint statement comes days before World Fisheries Day (November 21) in the year of Taiwan's first ever inclusion in the U.S. Department of Labor's List of Goods Produced by Child Labor or Forced Labor due to persistent and systemic issues of forced labor that exist within Taiwan's Distant Water Fishing (DWF) industry.

The statement was sent to Taiwan's Executive Yuan, the Ministry of Labor, and the Fisheries Agency, Council of Agriculture, calling on the government and the DWF industry to take appropriate and commensurate measures to ensure Taiwan's speedy removal from this dishonorable list.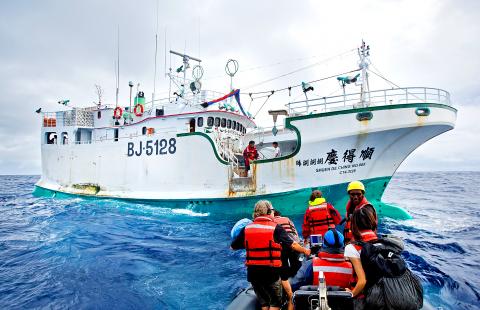 Greenpeace activists prepare to board illegal fishing vessel Shuen De Ching No 888. The Rainbow Warrior travels in the Pacific to expose out of control tuna fisheries. Tuna fishing has been linked to shark finning, overfishing and human rights abuses. Photo: Paul Hilton / Greenpeace

The Coalition for Human Rights for Migrant Fishers states that issues raised in the joint statement require inter-ministerial cooperation, particularly with the recommendation that migrant fishers in DWF fleets be protected by the Labor Standards Act. The Executive Yuan must coordinate all relevant agencies, including the Fisheries Agency and the Ministry of Labor, and take a proactive approach in addressing human rights issues for migrant fishers. This coordination will help safeguard Taiwan's reputation and remove Taiwan from the list, while protecting the future of Taiwan's DWF industry, ensuring the livelihood of our fisherfolk and the export of their catch.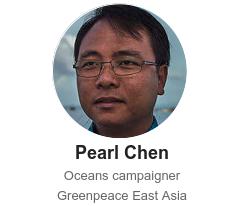 "Greenpeace and other environmental and human rights NGOs' investigations found that illegal, unreported, and unregulated (IUU) fishing is closely linked to forced labor at sea," said Pearl Chen, oceans campaigner at Greenpeace East Asia's Taipei office. "Forced labor and IUU have formed a vicious cycle because they are both driven by the desire to maximize profits. The government must pay attention to the rights of migrant fishers if we are to ever stop IUU fishing."

The joint statement raised four main issues that the Taiwanese government should prioritize to end the mistreatment of migrant fishers aboard Taiwanese vessels:
Abolish the overseas employment scheme for migrant fishers. Apply the Labor Standards Act to all fishers, including migrant fishers in the DWF fleet, and ensure all migrant fishers are governed by the Ministry of Labor and thus afforded the same rights and protections as Taiwanese fishers. During the transition period, the current "Regulations on the Authorization and Management of Overseas Employment of Foreign Crew Members" must be fully respected. Wages must be paid in full, and there must be no illegal deductions. In addition, insurance compensation must be paid fully and swiftly to family members of victims. The government must be fully in charge of governing migrant fishers.
Establish a clear timeline for swift and full domestication and implementation of the ILO Work in Fishing Convention (C188).
Increase the frequency and reliability of port inspections (both fishery and labor) for all vessels, especially DWF vessels.
Increase transparency in the fishery sector by requiring disclosure of vessel position (i.e. publishing VMS or AIS, and punishing vessels for turning either off), 100% observer coverage (independent human or effective electronic catch monitoring such as camera and remote sensor), and ensuring the safety of all observers on all fishing vessels.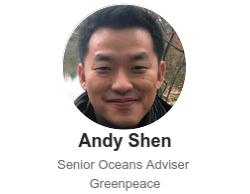 Responding to the joint statement, the U.S. Department of Labor welcomed the recommendations, and said it would inform their engagement with the Taiwan government in the future.

Greenpeace USA Senior Oceans Advisor Andy Shen added:

"This joint statement is the consensus of 34 human rights, environmental, and labor organizations worldwide. Businesses around the world that source from Taiwanese fishing vessels are watching closely to see how the government in Taiwan responds. We call on the Taiwanese government to initiate structural reforms, and ensure fishing vessel owners and seafood traders adhere to all relevant international human rights, labor, and environmental standards. Only then will conditions improve for migrant fishers in the DWF industry."
NGOs and trade unions that took part in this joint statement include (in alphabetical order):
Advocates for Public Interest Law
Be Slavery Free
Citizens' Institute for Environmental Studies
Civil Society Organisation Coalition for Ethical and Sustainable Seafood
Destructive Fishing Watch-Indonesia
Earthworm Foundation
Environmental Justice Foundation
Flourishing Oceans, Minderoo Foundation
Foundation for Education and Development
Freedom Fund
Freedom United
Global Labor Justice-International Labor Rights Forum
Green America
Greenpeace EA
Greenpeace SEA
Greenpeace US
Humanity United Action
International Justice Mission
International Pole and Line Foundation
International Transport Workers' Federation
Koalisi Rakyat untuk Keadilan Perikanan
Liberty Shared
Migrant Worker Rights Network
Serikat Awak Kapal Transportasi Indonesia
Serikat Awak Kapal Perikanan Bersatu
Serikat Buruh Migran Indonesia
Serikat Pekerja Perikanan Indonesia
Serikat Pelaut Sulawesi Utara
Serve the People Foundation in Taoyuan
Stella Maris International Migrants Service Center
Taiwan Association for Human Rights
Taiwan International Workers' Association
Walk Free
Yilan Migrant Fishermen Union
editorial@seafood.media
www.seafood.media