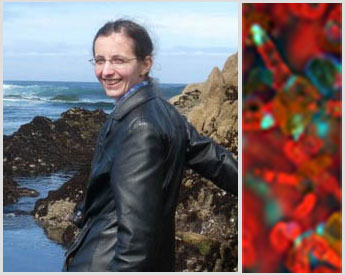 Dr Claire Gachon, senior lecturer in molecular phycology. (Phpto: SAMS)
High-tech equipment to be used to produce disease-resistant algae

UNITED KINGDOM
Friday, April 21, 2017, 01:20 (GMT + 9)
The Scottish Association for Marine Science (SAMS) will help to breed disease resistant algae thanks to its hi-tech piece of lab equipment, which is a great advantage for the seaweed-growing industry.
The equipment used to achieve this initiative is a NEPHELOstar to measure biomass and determine which algal cultures are resistant to different diseases, which,representatives from BMG Labtech have delivered.
"We will use this state-of-the-art equipment to identify algae that are resistant to disease. We will then correlate the data with genotype information to find out which strains are the most suitable for breeding seaweed," pointed out Dr Claire Gachon, senior lecturer in molecular phycology.
For her part, Catherine Wark, applications and business development manager at BMG Labtech, said: "This device is typically used by drug companies, so the work at SAMS is certainly a novel use of the technology."
Dr Gachon considers that this is important research for the seaweed industry globally, since disease can be devastating to the production line.
And she argues that, beyond algae, the technology could become a mainstream tool for non-invasive measurement of biomass of many different types of aquatic organisms.
This pioneering work is part of the GENIALG project, which aims to improve the genetic resources available to breeders for sustainable, large-scale kelp farming throughout the European Union.