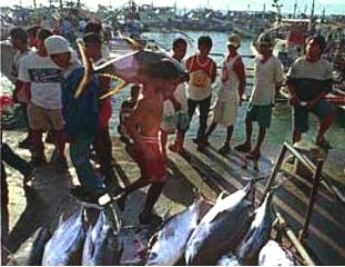 Tuna capture landings. (Photo: Stock File)
Govt intends to obtain extended access to high seas tuna fishing ground

PHILIPPINES
Monday, December 04, 2017, 23:40 (GMT + 9)
The Philippines Government intends to have the fishing access to tuna-rich high seas pocket one (HSP1) of the Pacific Ocean extended in the next five years from the Western and Central Pacific Fisheries Commission (WCPFC) to ensure continued economic fishing activities.
According to National Agriculture Undersecretary for Fisheries and Bureau of Fisheries and Aquatic Resources (BFAR) Eduardo Gongona, continued access to HSP1 is one of the country's priority agendas in the 14th Regular Session of the WCPFC, being held at the Philippine International Convention Center in Pasay City, from December 3 to 7, the Business Mirror reported.
"There are two things we are negotiating with the commission. One is the continuous access to high seas pocket one and the continued application of [Fisheries Administrative Order] 236 during the FAD [fish-aggregating devices] closure period as a compatible measure to the [WCPFC] Conservation and Management Measure," Gongona told reporters in a news briefing during the opening of the 14th WCPFC.
Gongona, who is also the national director, said 75 per cent of the country's tuna catch are exported, while the remaining volume are processed locally.
The Philippines caught a combined total of 333,209 metric tons (MT) of tuna (bigeye, skipjack and yellowfin species) from commercial and municipal fisheries in 2016, according to the annual report submitted by the BFAR to the WCPFC in August.
The same report also indicated that the Philippines caught a total of 24,424 MT tuna from HSP1 last year.
"The Philippines was given limited access to High Seas Pocket 1 as Special Management Area, allowing only 36 traditional fresh/ice-chilled fishing vessels operating as a group. Philippine-flagged vessels operating in HSP1 are managed under the DA-BFAR Fisheries Administrative Order 245-3," the report read.
"Out of 36 catcher vessels there were 32 vessels that entered HSP1 for 2016. The total catch of these vessels operating in HSP1 for the period of January to December 2016 was around 24,424MT," it added.
The Western and Central Pacific Ocean (WCPO) is the source of about 2.8 million metric tons of tuna valued at USD 5.3 billion, representing 79 per cent of the aggregate catch in the entire Pacific Ocean and 56 per cent of the global tuna catch, according to the BFAR.
"The Philippines, in particular, contributes an annual tuna catch of 248,000 MT, or 9 percent to 10 percent of the total production of WCPO," it said.
The 14th WCPFC meeting will particularly focus on bridging measure for tropical tunas which has faced problems in terms of production, especially on the preservation of wild stocks and the sustainability of harvesting methods.