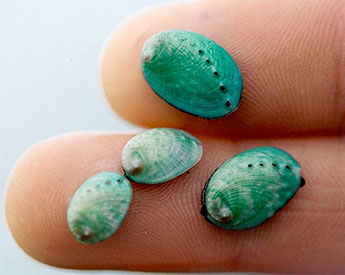 Juvenile paua, aged about 6 months. (Photo: Alan Blacklock, NIWA)
Warming ocean to affect fisheries by end of century

NEW ZEALAND
Thursday, December 07, 2017, 00:10 (GMT + 9)
A recent study carried out by National Institute of Water & Atmospheric Research (NIWA) scientists suggests that the rapid warming of the ocean near Tasmania may provide a good indication of how the water around New Zealand will change as the planet warms, affecting the foodweb and fisheries
The scientists have used two Earth System Models and four climate change scenarios to project how New Zealand waters will be affected by 2100.
Lead author and NIWA marine biogeochemist Professor Cliff Law says the best-case scenario involved a cessation in the production of carbon dioxide in the next few years, with the worst-case being business as usual in which carbon dioxide levels keep rising.
"The average warming around New Zealand is 2.5°C by the end of this century, which will affect how the ocean mixes and the nutrients available for plankton growth, with knock-on effects on the foodweb and fisheries," points out Law.
The professor explains that the surface ocean has a "density step" between the surface water and the lower, deeper water where the nutrients come from, which acts like a physical barrier to nutrient movement between the layers.
"With further warming, there's a stronger density step and less nutrient supply for the surface waters so phytoplankton doesn't grow so well and productivity drops down," he adds.
Projected changes in upper ocean properties in response to climate change (Image:NIWA)
The paper reports that one of the most affected areas for nutrient decline will be the Chatham Rise to the east of New Zealand, which currently provides about 60 per cent of the country's commercial fish catch. Another vulnerable area is the sub Antarctic waters to the south of New Zealand which is also home to some commercial fisheries.

In Professor Law's opinion, the fishing industry may need to think about being more agile in terms of the species it catches and where it catches them.
Acidity in the ocean will increase by 130 per cent by the end of the century which will cause changes to shellfish.
"For example, we can speculate that shells of paua and mussels may be affected – it doesn't mean that we lose them from our ecosystems, just that they might become smaller in response to their diversion of energy to maintain their shells," he explains.
Changes in species in New Zealand waters could include more invasive species and possibly new diseases that could affect local ecosystems. However, there may also be an upside. Tuna could be more plentiful in its waters because they prefer warmer waters and other fisheries may also benefit.
The professor also said the Earth Systems Models used by the scientists provided the best data "for now" but their global scale meant they provided information at low resolution.
"People tend to think of climate change from a terrestrial angle but obviously, as the ocean is a big part of the globe, there will be significant changes. As it's also a significant part of New Zealand's Exclusive Economic Zone we need to start planning for this now," Professor Law concludes.
The paper findings were published in the New Zealand Journal of Marine and Freshwater Research.