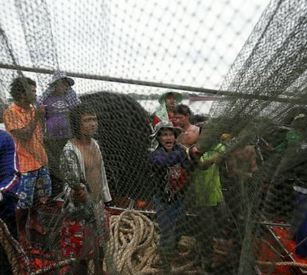 Migrant workers. (Photo: Human Rights Watch)
Govt seeks to increase migrant workforce legally

THAILAND
Tuesday, August 07, 2018, 03:30 (GMT + 9)
The Thai Government has decided to devise a plan to attract thousands of foreign workers into the Thai fishing industry.
To this end, Labour Minister Adul Sangsingkeo is to meet his counterparts from Myanmar, Laos, Cambodia and Vietnam after August 15 to establish the terms of the plan, Bangkok Post reported.
The date is set as a deadline for fishing operators in 22 coastal provinces to inform the government of how many workers they want after the National Fisheries Association of Thailand earlier estimated more than 42,000 are needed.
"The ministry wants to know their real demand in order to tell neighbouring countries," pointed out Minister Sangsingkeo.
The Thai government is considering two measures to solve the severe shortage of fishermen, which erupted after the enforcement of new laws to combat illegal, unreported and unregulated (IUU) fishing in Thai waters.
One of these measures involves importing migrant workers under a memorandum of understanding (MoU) signed with the four countries to ensure they legally enter Thailand and prevent a prospect of forced labour, a main factor that prompted the European Union to yellow-card, or issue a final warning to Thailand in 2015.
The other measure is to extend work permits for about 10,000 migrant workers who are currently aboard fishing vessels.
These work permits of foreign fishermen will expire at the end of next month, but the ministry plans to give them two more years to work in Thailand. In this regard, Labour minister clarified that they have until September 30 to enter a process to renew their permits.
In addition, the minister plans to call a meeting with fisheries officials and fishermen to discuss new MoU deals and "other problems so that they will move in the same direction".