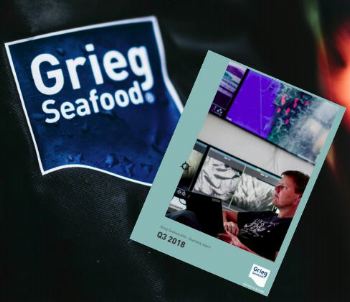 Algae blooms and salmon diseases increased Grieg's farming expenses in Q3.
Higher costs affect Grieg Seafood's income in Q3

NORWAY
Thursday, November 08, 2018, 02:00 (GMT + 9)
Grieg Seafood Group reported a 14 per cent reduction in its operating income in the third quarter this year, to NOK 1,589 million (USD 18.9 million), compared to the same period last year.

The Group informed it harvested 16,941 tonnes of salmon, a harvest volume that is similar to that recorded in the same quarter in 2017 (16,875 tonnes).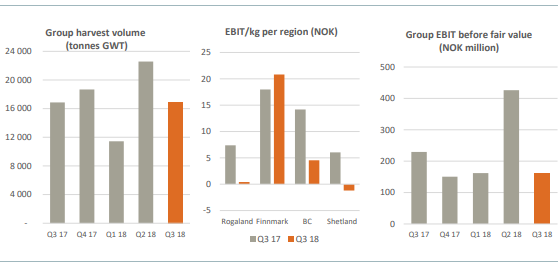 Q3 2018 results. (Photo: griegseafood.no)
The farming cost increased by NOK 1.11 (USD 0,13) per kg compared to the same quarter last year, which is mainly related to reduced survival towards the end of the quarter due to algae incidents in British Columbia (Canada) and gill-related diseases on Shetland.
The Group's EBIT before fair value adjustment of biological assets was NOK 160 million (USD 19.1 million) during the quarter, compared to NOK 229 million (USD 27.4 million) in the same quarter of 2017.

Q3 2018 results. (Photo: griegseafood.no)
Grieg Seafood highlighted its goal by 2020 is to increase production to reach an annual harvest volume of 100,000 tonnes and a production cost at or below weighted industry average, targeting NOK 37.90/kg (USD 4.5).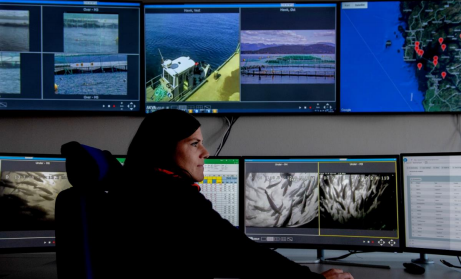 Room where fattening cages and farm in general can be remotely controlled. (Photo: griegseafood.no)
Representatives of the Group consider that continued access to high-quality smolt is critical to ensure future growth and reduce costs and that increased production of larger smolt will also shorten production time in sea, thus reducing exposure to biological risks and contributing to increased survival.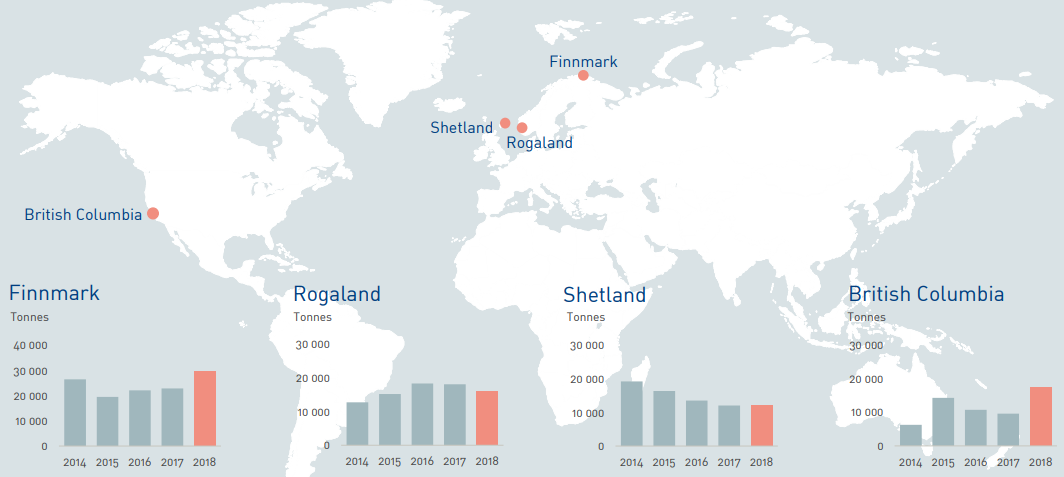 The four regions where Grieg grows salmon. (Photo: griegseafood.no)
Another essential aspect of Grieg Seafood's growth strategy is increased utilization of the Group's licenses. High site flexibility is essential to improve utilization, and the Group cooperates with local authorities on an ongoing basis to optimize flexibility.

During the quarter, the Group was granted two new locations in Finnmark. In addition, it has initiated the GSF 2020 improvement program, with specific targets and initiatives for each region.
Grieg Seafood expects to harvest approximately 24,100 tonnes in the next quarter, totalling 75,000 tonnes for the full year 2018, corresponding to an increase of 20 per cent from 2017.
Expected harvest volume for 2019 is 82,000 tonnes.

editorial@fis.com
www.fis.com