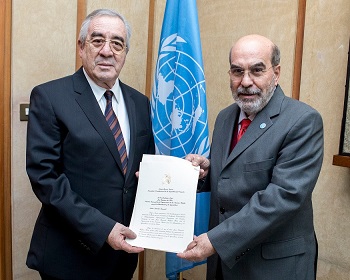 Nelson Robelly, permanent representative of Ecuador in FAO (left) with the general director of FAO, José Graziano da Silva.
Ecuador ratifies FAO agreement against illegal fishing

ECUADOR
Friday, February 08, 2019, 22:50 (GMT + 9)
Ecuador has ratified the "Agreement on Port State Measures aimed at Preventing, Discouraging and Eliminating Unregulated and Unregulated Illegal Fishing" of the United Nations Food and Agriculture Organization (FAO).
FAO meeting in Rome

According to the Ministry of Foreign Affairs and Human Mobility, the permanent representative of Ecuador to that organization, Nelson Robelly, presented the instrument of accession to the aforementioned international treaty.
This agreement was approved in 2009 during the 36th session of the FAO Conference and has already been ratified by 89 member states, including Ecuador.
This is the first international treaty specifically focused on the control of illegal, unreported and unregulated (IUU) fishing. It establishes a set of rules that countries must apply when foreign flagged vessels request to enter their ports or while they remain in one of them.
It also seeks to curb the flow of fishery products derived from undeclared and unregulated illegal fishing and thus contribute to the conservation of marine protected species and the sustainable use of marine resources.
Ambassador Robelly stressed that the importance of this international instrument lies in the fact that it will represent an effective mechanism for the control and regulation of fishing activities in the country, as well as for the safety and protection of compatriots who live and sustain such activities.
Ecuadorian fishing vessels. (Photo: Miguel Castro / El Telégrafo)

Along with this ratification, Ambassador Robelly's credentials were presented to the FAO's general director, José Graziano da Silva, which appointed him as Ecuador's permanent representative to the Rome-based agency.