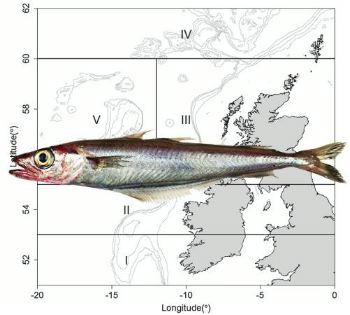 The North-East Atlantic coastal states reached an agreement on maximum catch for blue whiting for 2019.
North-East Atlantic coastal states reach agreement on blue whiting and herring

UNITED KINGDOM
Friday, November 09, 2018, 01:40 (GMT + 9)
North-East Atlantic coastal states have agreed that for next year the blue whiting total catch level should not exceed 1,143,629 tonnes and that the level of catches of Norwegian spring-spawning (Atlanto-Scandian) herring should not be more than 588,562 tonnes.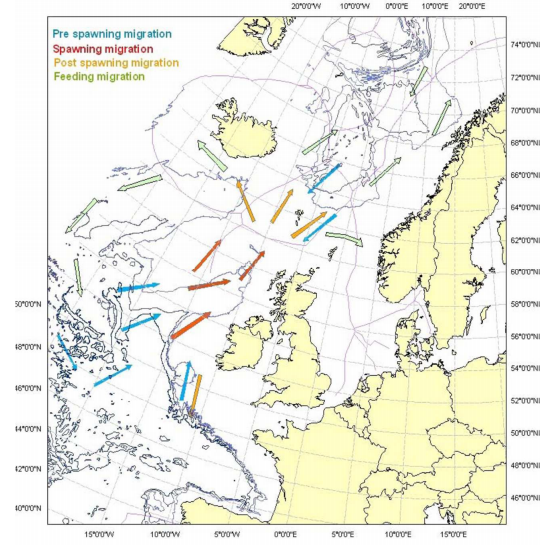 Migration routes for the blue whiting in the Northern Atlantic.(Photo: DNV.GL)
To reach the agreement delegations from these countries -- Faroe Islands, the European Union, Iceland and Norway -- met in London in early October and early November together with a delegation from Greenland acting as observer, so as to discuss the management of these resources.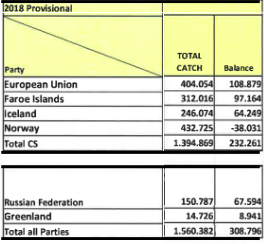 The agreed total allowable catches (TACs) were based their on the long-term management strategy for both resources advised by International Council for the Exploration of the Sea (ICES).
In addition, these representatives recommended that the North East Atlantic Fisheries Commission (NEAFC) allowable catches for 2019 would be 91,020 tonnes and agreed that the Parties may fish blue whiting within their quotas in their respective zones of fisheries jurisdiction and in international waters.
On the other hand, the Norwegian delegation referred to its proposal to initiate scientific work on the zonal distribution of the Atlanto-Scandian herring and expressed its disappointment that the other Coastal States present at the November meeting could not accept to establish a scientific working group on a methodology for estimation of the zonal attachment of the stock.