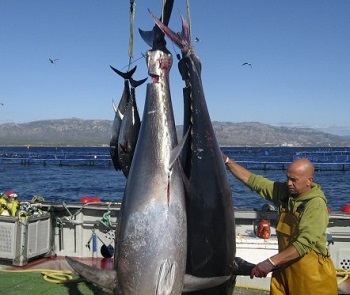 Bluefin tuna fishery.
New regulation of bluefin tuna fishery in eastern Atlantic and Mediterranean approved

SPAIN
Saturday, February 09, 2019, 02:20 (GMT + 9)
The Council of Ministers has approved a royal decree regulating the bluefin tuna fishery in the eastern Atlantic and Mediterranean, through which the access to resources for all interested fleets is consolidated.
The new rule incorporates the provisions of the Fisheries Management Plan approved in Dubrovnik in 2018, by the International Commission for the Conservation of Atlantic Tunas (ICCAT), into the Spanish legal system.

The Government of Spain emphasizes that the new Spanish regulatory framework, derived from the international framework, maintains a high level of demand in terms of management and control, which will guarantee the resource sustainability after ICCAT terminated the recovery plan, initiated in 2006, to adopt a management plan five years before its intended goal.
The new decree consolidates and improves access to the resource for the fleets that, during these years, have been affected or excluded in the fishery due to the strict requirements on capacity limits, which especially restricted the number of artisanal vessels in the Mediterranean and Canary Islands with authorization to conduct directed capture.
At the ICCAT annual meeting, the total allowable catches (TAC) set for the 2018-2020 triennium were also endorsed, corresponding to 28,200 tonnes for 2018; 32,240 tonnes for 2019 and 36,000 tonnes for 2020, which for Spain means reaching more than 6,000 tonnes.
With the TAC increase, it is possible to meet the fleets´needs affected by the restrictions, while the bulk of the quota is allocated to the fleets authorized for the targeted catch since 2008, the year in which the greatest capacity limitation requirements began.
Based on the historicity criteria, employment and dependence of the fishery included in the Maritime Law of the State, 87.15 percent of Spain fishing possibilities are assigned to the trap net fisheries (almadrabas) in the form of transmissible fishing possibilities, to the bait boats operating in the Bay of Biscay, the surface longliners of the Mediterranean, the Strait hand line fleet and the purse seiners operating in the Mediterranean.
Another part of the quota is allocated to the artisanal fleets of the Mediterranean, the Strait and the Canary Islands, as well as enabling a small percentage of bycatch for the longliners and the bonito coastal vessels.
The new royal decree simplifies the management regulations, maintains the control mechanisms to consolidate the good situation of this fishery, establishes a balanced distribution, and recognizes the efforts made by all the fleets together with the administrations for the full recovery of this species.