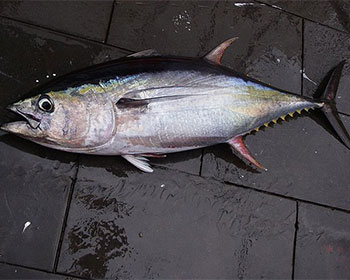 Yellowtail tuna. (Photo: NOAA)
Fisheries accuse Indian tuna vessels of breaching yellowfin tuna deal

SPAIN
Monday, October 09, 2017, 23:40 (GMT + 9)
The General Secretariat of Fisheries defended itself against the criticism of the National Association of Freezer Tuna Shipowners (ANABAC) regarding its management of the yellowfin tuna fishery in the Indian Ocean.

The Secretariat made the association responsible for failing to comply with an agreement signed in order to share the yellowfin tuna fishing opportunities in the Indian Ocean. It noted that due to the breach, it had been forced to set a precautionary closure of the fishery, which will take place on November 5.

According to La Voz de Galicia, the Secretariat estimates that by that date the catch possibilities will be exhausted and says that Spain can not fail to comply with its obligations to the international organization that regulates the fishery.

The Secretariat noted that throughout this year they met on several occasions with the Indian Freezer tuna seiners to implement the recovery plan agreed upon by the Indian Ocean Tuna Commission. And it said that it managed to mediate and reconcile the positions found of various associations forging that private gentlemen's pact to manage the quota.

"It is surprising that certain associations denounce the breach of this agreement among private individuals before the Administration, making it responsible for such a breach", regretted the Secretariat, adding that it "monitored consumption on a timely basis and systematically communicated the data to the associations."

The Secretariat of Fisheries emphasized that "it did not arbitrarily act or hide the exhaustion of the quota from ANABAC operators or from any other," and that it carried out the usual controls, although that does not prevent possible infractions.

The Spanish Administration considers that with the decreed closure, it assumes its responsibility. In addition, it emphasized that it was announced "one month in advance to facilitate the adaptation of the companies to its compliance, and it is announced four days after having a meeting with the whole sector to tell them about the seriousness of the situation".
Related article:
- ANABAC requests end of 'hasty' yellowfin tuna fishery ban in Indian Ocean