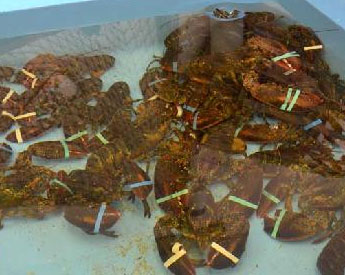 Live lobsters. (Photo: Stock File)
LIG Assets and Live Stor Create Live Stor America settle agreement

UNITED STATES
Friday, March 09, 2018, 21:20 (GMT + 9)
LIG Assets, Inc. (LIGA) (also known as the "Leader in Green Assets" or "LIGA") announces it has secured an agreement with Live Stor Ltd. of Sydney, Nova Scotia, Canada to create "Live Stor America," which will develop live seafood storage, collection and distribution hubs for the seafood industry (Live Seafood Hub).
Live Stor America will be setting up a million pound live holding system operation in the Portland, Maine area and the Seattle, Washington area to support import and export of live seafood from America, Europe and Asia, Globe Newswire reported.
LIGA's Live Stor America operation will be based on the new live holding facility technology that is currently under construction at the first facility (Live Stor Sydney), which is located at 440 Keltic Drive in Sydney River, Nova Scotia, Canada. This is only the beginning of this mutually beneficial relationship with Live Stor & Live Ship, as LIG Assets Chairman, Aric Simons, stated last year, "LIGA is very fortunate to partner with LIVE SHIP, a company that is certain to disrupt the seafood delivery industry and shares our corporate values."


Live Stor is excited to work with LIGA to develop live holding facilities in the USA which will be built using steel framing and magnesium oxide panels to create internal live holding spaces which can be expanded or reduced depending on live seafood seasonal holding requirements. This ability to expand and contract live holding space works perfectly with the BioNovations designed Traystor holding system. Each live seafood product held requires a specific holding temperature to keep the seafood product in a sustainable long-term holding state. LIG Assets CEO Allan Gillis said, "Using this new innovative system of live seafood transport and storage enables live seafood to be kept in as close to its natural environment as possible. The goal is to create a North American collection and distribution network of live seafood that will be disruptive to the air cargo industry."

The first phase of the Live Stor Sydney facility, after the acquisition of the existing Co-Op Atlantic Distribution Center, was to remediate the eight million pound freezer storage area (50,000 sf) which was completed in August of 2017. Live Stor Sydney is now holding in the freezer section of the building product from some of the largest seafood producers in Atlantic Canada. Space in the building is also rented out for cross docking of frozen foods and two offices have been rented out to a local IT company. Live Stor Sydney has started building a 250,000-pound live lobster holding system designed by BioNovations of Antigonish Nova Scotia. This equipment from BioNovations is called the Traystor Storage Module Systems, which is a new and unique live seafood holding system providing a quality and quantity storage solution. The reduced water and power usage required of the BioNovations Traystor Storage Module System will reduce overhead costs. BioNovations live seafood storage and transport solutions will improve the overall domestic and international supply chain for live seafood.

Once this 250,000 live lobster holding facility is operational in May of 2018 it will act as a base for the Gillis brothers' other company, which is Live Ship Global Seafood Logistics LTD. Live Ship has a worldwide exclusive agreement with BioNovations of Antigonish Nova Scotia Canada to transport live snow crab and lobster. Live Ship expects to have the first five 53-foot road trailers operational by late 2018 for live seafood transport anywhere in North America and has ordered the first two of a 120 order of forty-foot specialized sea containers for transport of live lobster or snow crab to Europe or Asia by sea via container vessels.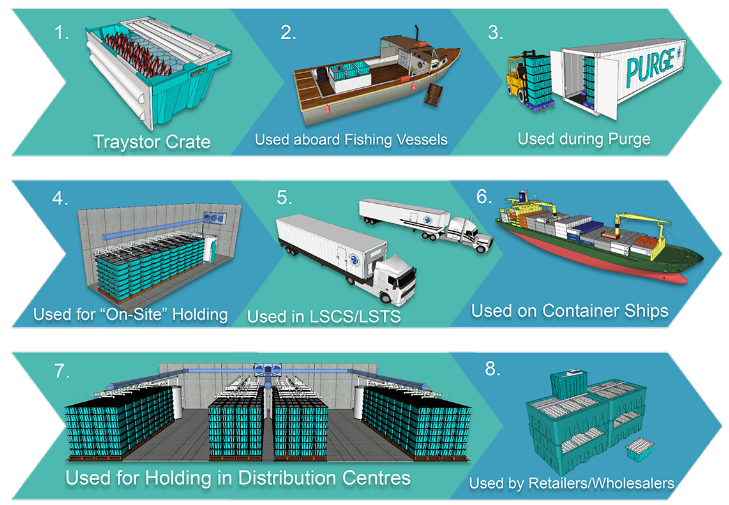 The conditions, timing and location for Live Stor's enterprise couldn't be better. The lobster industry in North America has seen catches doubling over the past decade and supply-side is off the charts. Demand for live lobster and crab in Asia is at an all-time high, as is the US demand. The ability of fishers and buyers to rent Live Stor storage space equipped with BioNovations Holding systems offers more control of their product while being able to store and hold until the market value is highest. Not only does the Live Stor, live holding system provide fishers and buyers a better holding and distribution system than presently exists, it utilizes new industry-changing technology form BioNovations which provides a cost-effective solution to the lack of live seafood storage space for the fishing industry. It cannot be stressed enough that this enterprise will make Live Stor not only the leader in the live seafood industry, it will forever change the way fishers hold and sell their product while forcing competitors into changing their entire operational and business models to reflect that of Live Stor and Live Ship – a revolutionary and game-changing development. Using BioNovations new Traystor storage system Live