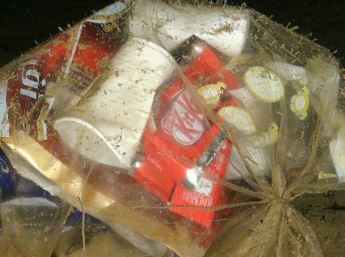 Ocean plastic and marine litter. (Photo: Oceana)
Plastic waste pollutes deep sea throughout Europe

EUROPEAN UNION
Saturday, June 09, 2018, 00:00 (GMT + 9)
On World Oceans Day, Oceana attracts attention to the growing number of plastics that affect vulnerable depth species, and emphasizes that for every plastic that is seen on the surface, there are dozens of them in the marine bottom.
The marine conservation organization has documented numerous cases in expeditions throughout Europe, revealing the true magnitude of a problem that often goes unnoticed by the technological difficulties of exploring these areas. Plastic is endangering the biodiversity of the deep sea, which harbours pristine habitats.

"The biggest impact of waste on the sea is what we do not see: microplastics and the contamination of the depths. Many people wonder what they can do to preserve the oceans, and we all have a role: governments must limit production and citizens, recycle and reuse plastic utensils so that they do not reach the beaches, fish's stomachs or fragile deep habitats," explains Lasse Gustavsson, executive director of Oceana Europe. "Deep waters hide valuable biodiversity and we can not afford to destroy them."

Plastic waste causes serious damage to marine organisms and the ocean ecosystem in general. When crumbling into small pieces, plastic microparticles enter the food chain, with effects that have yet to be studied further. Every minute one million plastic bottles are acquired in the world and each bottle takes about 450 years to disintegrate.

Oceana has found plastics waste throughout Europe, including the Atlantic, the Baltic and the Mediterranean, in areas that are up to 1,000 metres deep (the maximum reached by the submarine robot of the marine conservation organization). These findings agree with those of other researchers, who have found plastic in unexplored areas several thousand metres below the surface. Deep waters harbour some of the most vulnerable habitats and species due to factors such as their slow growth -- as it happens with corals -- or their limited offspring, as it is the case with deep-sea sharks.

Therefore, Oceana values ​​the proposal of the European Commission to prohibit certain plastic products for single use in order to stop the increase in marine litter.
It is estimated that each year there are more than 5 billion fragments of plastic floating in the sea, weighing more than 250,000 tonnes. Every year 8 million tonnes of plastic reach the sea.
Related article:
- The Mediterranean polluted with microplastic record levels, WWF warns