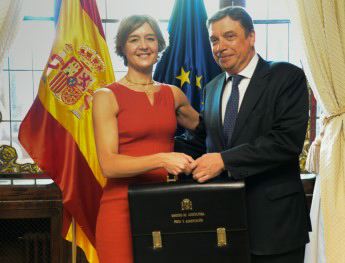 New minister of Agriculture and Fisheries Luis Planas with the minister leaving office, Isabel García Tejerina.
Seafood sector deems new Fisheries Minister appointment as 'successful'

SPAIN
Saturday, June 09, 2018, 01:40 (GMT + 9)
The Spanish fisheries sector values ​​the profile of the new Minister of Agriculture, Fisheries and Food, Luis Planas, and hopes that the new Executive, through several ministries, will play a fundamental role to advance and delve into the different issues affecting it.
This was stated by Javier Garat, Secretary General of the Spanish Fisheries Confederation (CEPESCA), who, on behalf of the said organization, expressed his intention of maximum collaboration with the new authorities for the common defense of the interests of the fishing sector, both inside and outside the borders of Spain.
"From CEPESCA we consider it a wise decision to appoint Luis Planas as Minister of Fisheries, given his knowledge on the subject, his European and international experience and common sense, so necessary in such an internationalized sector, where most decisions are taken in the EU," said Garat.
CEPESCA emphasizes that the new minister will have to face some important challenges, such as the shortage of crew members, the multi-year management plans of the Mediterranean and the Western Waters and the full entry into force of the landing obligation in January 2019. It also mentions the goal to ensure that fish stocks are in maximum sustainable yield (MSY) by 2020, the Brexit, the renewal of fisheries agreements between the EU and countries such as Morocco, Guinea Bissau or Mauritania, and negotiations reating to the new Common Fisheries Policy (CFP) reform, the new European Fisheries Fund or the new Control Regulation, among others.
On the other hand, and given the complex environment of international relations in which the fishing sector develops its activity, CEPESCA hopes that the new Minister of Foreign Affairs, Josep Borrell, will continue to promote international fisheries relations, supporting from Spanish embassies the companies that have investments in third countries and negotiations with countries with which different Spanish fleets have to sign agreements to develop their activity. In the same way, CEPESCA trusts the fact that the minister defends Spanish fishing in negotiations like those of Brexit or those related to the international governance of the oceans.
The fisheries association also celebrates the election of Teresa Ribera and Pedro Francisco Duque as responsible for the portfolios of Ecological Transition and Science, Innovation and Universities, respectively.
CEPESCA hopes that Pedro Duque will bet on applied research, providing the Spanish Oceanography Institute with the necessary human and budgetary resources to be able to comply with its obligations.