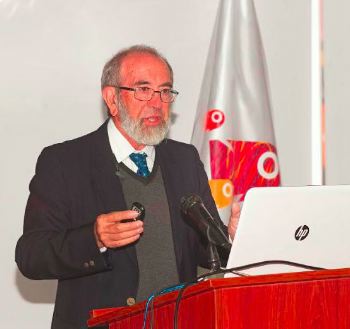 The scientist of the Research Institute for Development (IDR) of France, Dr. Francois Gerlotto
Expert highlights fisheries management to ensure the sustainability of resources

PERU
Saturday, June 09, 2018, 20:00 (GMT + 9)
Lima - The scientist of the Institute for Research for Development (IDR) of France, Dr. Francois Gerlotto, stressed the importance of fisheries management and the impact it has had on Peru, by guaranteeing the sustainability of marine resources.
In the conference "Habitat and structure of the population of a pelagic resource: what is the impact of fisheries management?", The French researcher stressed the importance of employing appropriate strategies in the exploitation of each species, with the aim of guaranteeing the care of them, minimizing impacts.
"We must not only care for the juveniles, we must also give emphasis and importance to the adult species and take care of them in the same way, even giving them more importance. All this guarantees the sustainability of the resource. Each species must be studied in a particular way, "said the scientist.
Gerlotto arrived in Lima at the invitation of the National Fisheries Society (SNP), as part of its cycle of Conferences on Marine Sustainability, a space for scientific and technical dissemination with which the fishing industry seeks to contribute to the knowledge of the sea.
The specialist, who spoke before public officials, fishing entrepreneurs, representatives of NGOs, academics and students, mentioned as an example the fishing management of jack mackerel in the South Pacific and indicated that the situation and behavior of the population of this species in the region are very favorable for Peru. This despite the fact that it has not been available in recent years off the Peruvian coast.
On the other hand, Gerlotto said that Peru has been making good use of the anchoveta, working on an adaptive system, which means that if something is not planned, it will be easier to adapt.
Biomass
Finally, the scientist pointed out the importance of the control, evaluation and management of the biomass for the impact of the sector and explained that, in some opportunities the levels of biomass can be reduced, but this does not mean precisely a problem for the country. "These variations become natural and you must be prepared for these changes that are generated at sea," he noted.
According to the official data of the Institute of the Sea of ​​Peru (Imarpe), anchovy biomass has remained stable in recent years. However, the last measurement made by the scientific entity reported that anchovy biomass amounted to 10.9 million tons, 35% higher than the average of the last 25 years, confirming the good fishing practices of the industry in Peru .