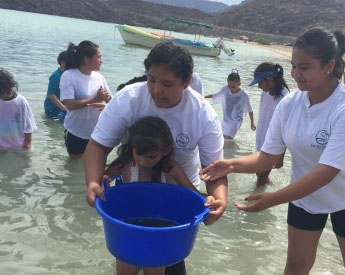 Release of totoaba juveniles on Santisapac beach, Concepcion Bay. (Photo: Conapesca)
Aquaculture company helps restock totoaba in Sea of ​​Cortes

MEXICO
Monday, July 09, 2018, 23:30 (GMT + 9)
SERMANAT, CONAPESCA and the governor's office of the state of Baja California Sur joined forces with Earth Ocean Farms to release 40,000 totoaba (Totoaba macdonaldi) offspring into the Sea of ​​Cortes, in an attempt to restock this endangered species due to its illicit trade.

The release was carried out at Santisapac beach, in Bahía Concepción, the town of Mulegé.

This is the fourth time that totoaba has been restocked in the same waters; the first occasion was in December 2015. The site was selected because it is included among the representative geographic area of ​​this species that is endemic to the Sea of ​​Cortes.

Since 2013, totoaba has been bred and cultivated in a sustainable manner by Earth Ocean Farms, a mariculture company located in La Paz, as part of an innovative plan to help this species recover. The company operates its hatchery in Pichilingue and a marine farm in a 350 hectare marine concession about 50 km north of La Paz.

"Our vision is to protect this species for future generations and develop the mariculture industry for the state of Baja California Sur and Mexico. With the leadership of Semarnat, Conapesca and the state of BCS, Mexico, will have the capacity to create jobs in aquaculture, bring important sources of protein to the tables of Mexican families and contribute to the conservation of endangered species," said Pablo Konietzko, director of Earth Ocean Farms.

The Secretary of Environment and Natural Resources of the Government of Mexico, Rafael Pacchiano Alamán, congratulated with this fourth totoaba juvenile release and thanked the joint effort made by the authorities of the three levels of government and civil organizations to achieve recovery of this species through sustainable techniques, such as aquaculture.

For his part, Mario Aguilar, national commissioner for Aquaculture and Fisheries, commented on the fourth release: "The repopulation of the totoaba through aquaculture is an important part because it complements the Integral Strategy for the Recovery of the Marine Vaquita in the Sea of Cortes. Therefore, this act constitutes a significant effort in support of aquaculture projects that make it possible to find productive alternatives in the area."

With this action, CONAPESCA once again confirms its commitment to work in coordination with the private initiative, represented in this case by Earth Ocean Farms, and with other instances of the federal government, to ensure the sustainability of marine species in waters of federal jurisdiction, specifically in the Sea of ​​Cortes.