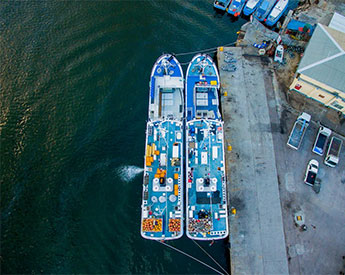 Spanish tuna vessels. (Photo: OPAGAC)
Spanish tuna fleet is pioneer in eliminating environmental impact of FADs

SEYCHELLES
Friday, January 12, 2018, 21:50 (GMT + 9)
The Spanish tuna fleet grouped in the Organization of Associated Producers of Large Tuna Freezers (Opagac) has become the first organization capable of guaranteeing the withdrawal of fish aggregation devices (FADs) with risk of stranding in Seychelles.
The fleet, composed of 15 vessels, invites the 37 remaining purse seiners from other countries to start similar projects with the aim of eliminating the environmental impact of all these devices at the end of their useful life, and preventing them from being stranded in reefs or beaches.
The Spanish fleet has achieved this important accomplishment after the launch, one year ago, of the FAD WATCH project, following the agreement signed in September 2016 with the Seychelles Fisheries Authority (SFA), Island Conservation Society (ICS) and Island Development Company (IDC).
Given the excellent results obtained, the agreement will be extended for another year and, according to those responsible for ICS, "now is the time for other fleets to join the project to help the Seychelles achieve reef and beach environments totally free of FAD waste in the near future."
Currently, and thanks to the monitoring software developed by the companies Satlink and Marine Instruments, ICS receives situation data from the FADs of the 15 OPAGAC purse seiners, including the six from the Inpesca shipping company, recently integrated into this organization. This software informs the positions of the FADs in very short intervals of time, which facilitates their monitoring, intervention and withdrawal by ICS.
After the removal and cleaning of the FADs, the devices are properly stored until they are finally collected for recycling. Databases and reports are also prepared to evaluate the types of FADs used and their environmental impact, as well as for the design and development of others with the lowest possible environmental impact.
"We are very satisfied with the result of this pioneering project in the world, which has allowed us to advance our commitment to the sustainability of the marine ecosystems in which we operate," says Julio Morón, Managing Director of OPAGAC.
In addition to actively participating in the FAD WATCH project, the tuna fleet of OPAGAC has developed, in collaboration with the AZTI technology research center, a new generation of biodegradable FADs. In this pilot project, OPAGAC has deployed a hundred of these new devices in the Indian Ocean to evaluate its durability under real conditions of use and the absence of toxicity of the materials used in its construction.