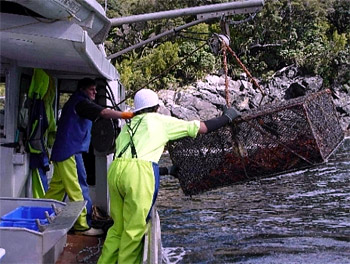 Rock lobster fishery. (Photo: Lobster New Zealand)
MPI opens public consultation on new TACs for 2018 fishing season

NEW ZEALAND
Saturday, January 13, 2018, 01:20 (GMT + 9)
The Ministry of Primary Industries (MPI) calls on interested parties to send their opinions on their annual review of catch limits and fisheries management measures, in view of the fishing season that will begin in April.

The MPI carries out an exhaustive study every year to establish catch limits and measures to manage fisheries, in order to implement the necessary changes for the sustainable use of fishery resources.

Stuart Anderson, director of fisheries management of MPI, stressed the importance of these reviews, because they allow them to ensure that the measures applied are on the right track. The MPI invests around NZD 20 million (USD 14.4 million) annually in the fishing industry, he added.

He also said that the combination of public opinion and scientific research allows the Ministry to improve its activities and make decisions for a wide variety of stocks.

The stocks that are being revised are the following:

Rock lobster:

CRA 2 (Hauraki gulf / Bay of Plenty)


CRA 4 (Wellington Bay / Hawke)


CRA 7 (Otago)


CRA 8 (South)

Sea cucumber:

SCC 3 (east coast of the South Island)


SCC 7B (upper part of the west coast of the South Island and Nelson)


And the Southern blue whitinng of SBW 6B area (Bounty Platform).

Of the four revised rock lobster stocks, the MPI proposes decreases in the total allowable catch (TAC), the total allowable commercial catch (TACC) and permits for two stocks, and increases in the TAC and TACC for the other two stocks.

The public consultation will end on February 9.