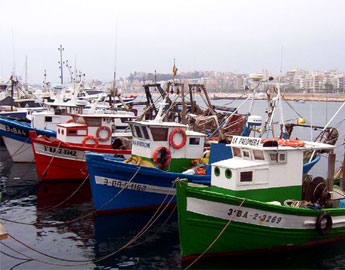 Spanish fishing boats anchored at a port in southern Spain. (Photo: Stock File)
Calming message given to sector involved in EU-Morocco fisheries agreement

SPAIN
Saturday, January 13, 2018, 02:20 (GMT + 9)
The General Secretary of Fisheries, Alberto López-Asenjo, has tried to give a message of tranquility about the situation of the EU-Morocco fishing agreement, following the warning of a legal adviser to the European Court of Justice on its possible illegality.

Lopez Asenjo's message follows the publication, last Wednesday, of the conclusions of the ECJ's Attorney General Melchior Wathelet on the question referred by the courts of the United Kingdom regarding the validity of the EU-Morocco fishing agreement on the waters of the Occidental Sahara.

In a meeting with representatives of the fishing sector and the autonomous communities, summoned by the General Secretariat, the Secretary of Fisheries explained to the fleet that until the Court finally pronounces - something that will take months to occur -, there are no changes. Therefore, this pronouncement does not have any practical effect given that the current agreement remains in effect until next July 14.

Attorney General Wathelet considers in his conclusions, which are not binding, that the fishing agreement concluded between the two parties is not valid because it applies to Western Sahara and adjacent waters.

In its opinion when concluding this agreement, the EU failed to comply with its obligation to respect the right of the people of Western Sahara to self-determination and its obligation not to recognize an illegal situation resulting from the violation of that right, in addition to not establishing the necessary guarantees to ensure that the exploitation of the natural resources of Western Sahara will benefit the people of that territory.

In this regard, López Asenjo pointed out that the Ministry is already working on all possible scenarios to avoid any socioeconomic impact on the sector that works under this agreement.

In parallel, in Brussels the work continues for the renewal of the current protocol having discussed, for the first time this week, the negotiation mandate in the fishing group, a procedure that usually takes between four and six weeks to be resolved.

The current fishing protocol allows 126 EU vessels, mostly Spanish, to operate in Moroccan waters in the different categories. This agreement is of great importance for the Spanish fishing interests and for the Spanish-Moroccan bilateral relations.

As a result of this meeting, it has been agreed to maintain a constant channel of communication with the autonomous communities and the sector, which will be informed of all the news that will be produced in the coming months.

From the Ministry stressed that this rapid reaction reaffirms its commitment to the Spanish fishing sector and its long-term viability.
Related article:
- EU-Morocco fisheries agreement should be declared invalid, according to legal adviser