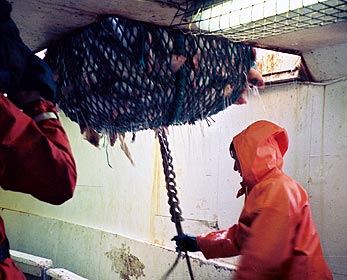 A crew member of a Scottish trawler unloading a catch onboard. (Photo: EC)
Brussels and UK dispute over fishing quotas

UNITED KINGDOM
Saturday, January 13, 2018, 03:00 (GMT + 9)
Brussels is preparing to face any attempt by the UK Government to renegotiate fishing quotas in British waters during the two-year transition period after Brexit.

The authorities of the European Union (EU) want the United Kingdom to continue to respect until 2021 the Common Fisheries Policy (CFP), according to which the other members of the European block can access waters located between 12 and 200 nautical miles from the coast British

Last year, the British Environment Secretary, Michael Gove, announced that Britain intended to take control of its waters after the Brexit and abandon the CFP, a message that was reiterated later by Prime Minister Theresa May. But now there are doubts that this can materialize.

According to an EU diplomat, it is possible that Gove has silently admitted that the UK will not be able to discuss fishing quotas until the end of the transition period.

The annual quotas are set in December for the following year, so this transition would allow the CFP to continue to apply in the United Kingdom for two years, until December 2021.

Gerard van Balsfoort, director of the European Fisheries Alliance, firmly believes that the UK will not be able to persuade the EU to change the policy.

On his side, the Scottish Fisheries Federation executive director, Bertie Armstrong, believes that it is not acceptable to keep the UK on the issue of the CFP during the transition period.

Recent research shows that if the United Kingdom manages to abandon the CFP agreement, this would result in a millionaire loss of around GBP 50 billion and a drastic reduction in jobs until 2030.

Norway, which is not part of the CFP but has agreements with the EU to allow mutual access to its waters and markets, will play a key role in the talks on a future agreement.

The Norwegian Fisheries Minister, Pers Sandberg, anticipates that the talks between the EU, the UK and Norway on fishing rights will be complex and that they are likely to end at the end of a transition period.

"Undoubtedly, there will be challenging issues, but we are not starting from scratch," Sandberg said. "A key goal is to secure a smooth transition period and finish in time to avoid any vacuum in the institutional arrangements that can hamper the fisheries in the North Sea."