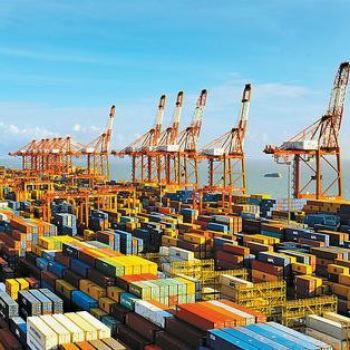 Containers at Dalian Port (Photo: Stockfile)
China has opened the ports of Dalian and Qingdao for the export of Russian fish

CHINA
Wednesday, January 19, 2022, 07:00 (GMT + 9)
The Chinese authorities went to a meeting to open the ports of the years. Dalian and Qingdao for the export of Russian fish products in bulk.
On January 16, the first Russian transport vessel with more than 7 thousand tons of Russian fish products entered the port of Dalian.
The information was confirmed by the representative of the Federal Agency for Fisheries in China.
The transport refrigerator Vysotsk (JSC Gidrostroy) delivered more than 7 thousand tons of products (mainly pollock, pollock caviar and milt, as well as pollock and herring flour) from several Russian enterprises, including Pilenga, Cleaver, PA Sakhalinrybaksoyuz, Poronay, PBTF.
Fish products are accepted for transport in the exclusive economic zone of the North Sea of Okhotsk subzone from December 23, 2021 to January 7, 2022.
<---- Qingdao port (Photo: stockfile)
At the moment, transporting products directly from the fishing areas to Chinese ports is the safest way to supply.
Restrictions on the import of seafood to Chinese ports in the holds of refrigerated ships were introduced at the end of 2020.
During 2021, representatives of the Russian departments carried out a lot of negotiation work to reach agreements on the opening of ports.
According to preliminary data from the industry monitoring system, Russian fishermen finished the year 1.5% ahead of 2020 - more than 5.05 million tons were caught in all basins of the Russian Federation and outside Russian waters. This figure also turned out to be higher than the record catch of 2018, when domestic fishermen for the first time broke the bar of 5 million tons (a record figure since 1992).
Assessing the results of the industry last year, the head of the Federal Agency for Fishery, I. Shestakov, said: "Fishermen reoriented to the domestic market, and also quickly diversified export supplies, which made it possible not to reduce the catch rate for the main objects of thought." According to the Rosselkhoznadzor, the export of fish and seafood from Russia to a number of European countries increased several times in 2021, and supplies to Asia and Africa also increased significantly.
Source: Press Service of the Federal Agency for Fishery
Por Malena Nahum
editorial@seafood.media
www.seafood.media