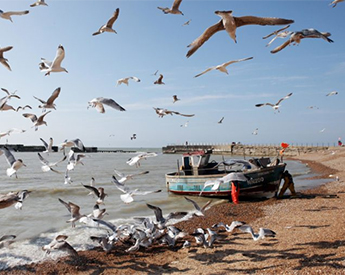 Artisanal fishing vessel. (Photo: Unearthed)
Few families hold 29pct of UK's fishing quota, Greenpeace reveals

UNITED KINGDOM
Friday, October 12, 2018, 01:20 (GMT + 9)
An investigation carried out by Greenpeace Unearthed project has determined that more than two-thirds of the UK's fishing quota is controlled by just 25 businesses – and more than half of those are linked to one of the biggest criminal overfishing scams ever to reach the British courts.
As part of its investigation, the association traced the owners of more than 95 per cent of UK quota holdings.
The report shows that in England nearly 80 per cent of fishing quota is held by foreign owners or domestic Rich List families, and more than half of Northern Ireland's quota is hoarded onto a single trawler.
The news comes as the government is preparing to publish a new fisheries bill, which will set the legal foundations for the UK's fishing industry after Brexit.
According to Unearthed journalistic team, small scale fishermen told them that successive governments have mismanaged fishing rights, allowing quota to be consolidated on a handful of supertrawlers while smaller-scale, low impact fishermen had been progressively starved of access.
But while the government is hoping it can net access to more fishing rights in the Brexit negotiations, it has said the new bill will not see any redistribution of the UK's existing quota rights.
As Unearthed's investigation shows, this will leave the bulk of UK fishing rights in the hands of a small domestic elite and a handful of foreign multinationals.
The investigation also finds how many of those at the centre of one of Scottish fishing's most infamous episodes – the black fish scandal – continue to dominate the industry.
In 2005 Scottish officials discovered schemes to systematically evade quota restrictions for mackerel and herring, using underground pipes, secret weighing machines, and extra conveyor belts to land 170,000 tonnes of over-quota fishover several years.
A multi-year police investigation followed, resulting in a series of court cases over 2011 and 2012 in which three fish factories and more than two dozen skippers were hit with fines and confiscation orders for "black landings" of undeclared fish.
Unearthed's investigation found that of the 20 biggest holders of Scottish quota, 13 have directors, shareholders, or vessel partners who were convicted of sea fishing offences in the black fish scandal.
The organisation highlights that the Christina S, involved in the black fish scandal, was among the flotilla of vessels that sailed up the Thames with Nigel Farage to protest EU fisheries policy weeks before the Brexit referendum.
In this regard, John Anderson, chief executive of the Scottish Fishermen's Organisation, told Unearthed: "The pelagic fishermen and processors involved will be the first to acknowledge that, in the past, mistakes were made."
As a result, he continued, the sector had founded the Scottish Pelagic Sustainability Group to oversee the certification of its main fisheries to Marine Stewardship Council (MSC) standards. Since that time, he added, "98 per cent of the group's stocks have been certified as sustainable and well managed by the MSC."
On the other hand, a spokeswoman for the Department for Environment, Food and Rural Affairs said: "We are clear fishing communities and our wider economy should benefit as much as possible from those fishing the UK's quota, and we are working closely with fishermen to review and reform the rules around the economic link condition."