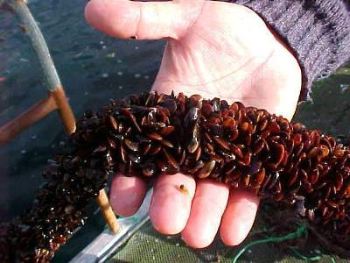 Chilean mussels. (Photo: Stock File)
Senate Commission starts discussion on mussel concession relocation project

CHILE
Friday, October 12, 2018, 02:20 (GMT + 9)
The Fisheries Commission of the Senate on Wednesday began the debate on the bill that authorizes the relocation of mussel concessions during a session in which Undersecretary of Fisheries and Aquaculture Eduardo Riquelme participated.

The initiative, which entered the legislature in mid-2017 and was recently processed by the Chamber of Deputies, will lead to a comprehensive reordering of the aquaculture area, according to the undersecretary.

"Eight years ago, the Office of the Comptroller General pointed out that many of the aquaculture and maritime concessions were badly emplaced," Riquelme recalled, as he delved into the origin of the bill.

Initially, the locations of these concessions were defined based on a georeferencing process. In subsequent checks, however, the more precise nature of the satnav system showed these errors.

"In other words, the places where they are currently located are different from those indicated in the resolutions that granted the concessions," summarized the undersecretary.

In his opinion, along with management itself, the implementation of the standard will facilitate the merger of some of those areas, which is positive.

"This purpose facilitates the control, and secondly, it has effects from the sanitary point of view, since the cages are rotated within the merged spaces," he explained.

The relocation of the mussel concessions should be combined with those of salmon and the location of the fishing grounds.

"This project is to pay off a debt that existed with the mussel farming sector, I want to value the attitude of the Executive to give priority to this initiative," said commission's president Rabindranath Quinteros.

Chile is the second mussel producer globally, as well as the world's leading mussel exporter.