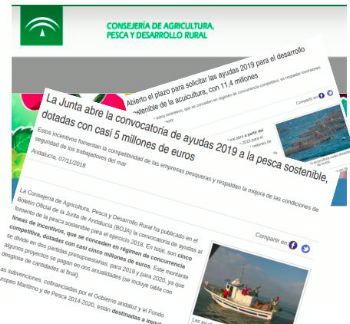 The deadline to request the aids ends in two months.
Andalusia delivers aid for EUR 16.4 million for sustainable development of fisheries and aquaculture

SPAIN
Thursday, November 08, 2018, 21:20 (GMT + 9)
The Undersecretariat of Agriculture, Fisheries and Rural Development of the autonomous Government of Andalusia has as of today opened the period to apply for 2019 grants for the sustainable development of marine aquaculture, for a total of EUR 11.4 million.
The deadline for submitting applications to access these aids, which are granted under competitive concurrency, is two months, according to the Official Gazette of the Autonomous Government of Andalusia (BOJA).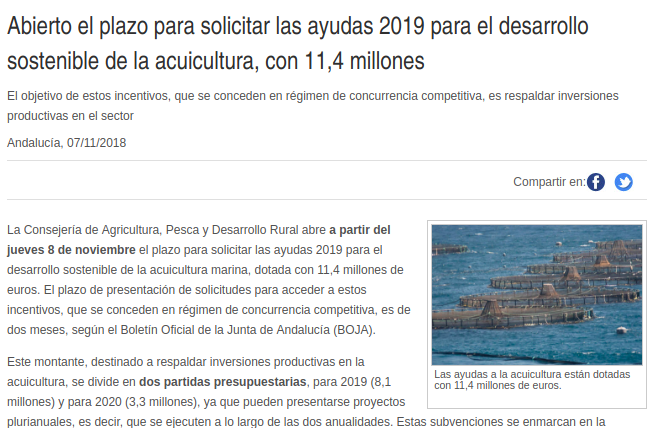 This amount, intended to support productive investments in aquaculture, is divided into two budget lines, for 2019 (EUR 8.1 million) and for 2020 (EUR 3.3 million), since multi-year projects can be presented, that is to say, they are conducted throughout the two annuities.
These grants are part of the Andalusian Strategy for the Development of Marine Aquaculture 2014-2020 and are co-financed by the European Maritime and Fisheries Fund (EMFF) 2014-2020.
The Undersecretariat has also published the call for aid for the promotion of sustainable fisheries for the year 2018. In total, there are five lines of aids, which are awarded under competitive concurrency, endowed with almost EUR 5 million. This amount is divided into two budget items, for 2019 and 2020, since some projects are paid in two annual installments.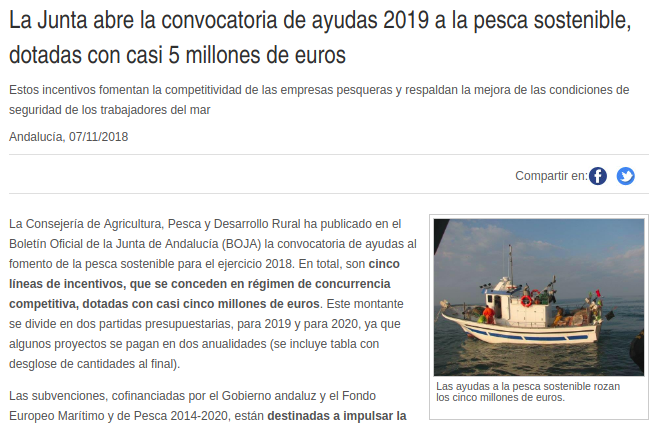 The subsidies, co-financed by the Andalusian Government and the 2014-2020 EMFF, are aimed at boosting the competitiveness and viability of companies in the fishing sector and at supporting the improvement of working conditions and safety of sea professionals. In addition, they seek to promote energy efficiency and mitigation of climate change as well as support the replacement and modernization of engines. To these objectives what is also added is support for measures aimed at improving infrastructure and equipment in fishing ports, among others.
The period to apply for these grants is two months from today.
At present, Andalusia has a fishing fleet formed by about 1,500 boats engaged in marine fishing and shellfishing, in which around 6,500 professionals work who can benefit from these aids.